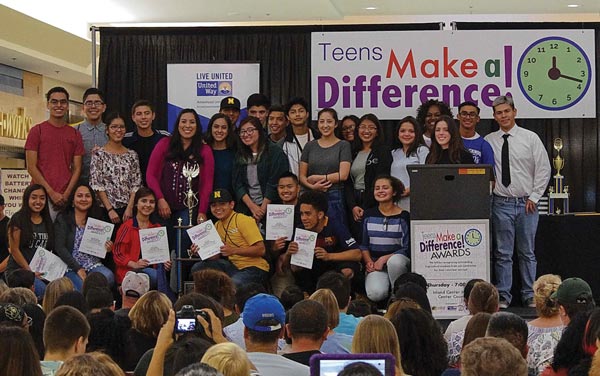 Students at Rialto High School define the meaning of giving back.
More than 378 students logged more than 13,297.5 volunteer hours in their communities, earning Rialto High the title of "Top School" at the annual Teens Make a Difference Awards at Inland Center Mall in San Bernardino.

The event recognizes local high school students for their outstanding volunteer service in their communities at places including libraries, hospitals, schools, nonprofits and community-based organizations. The program, now in its 24th year, is a partnership between Inland Center Mall Arrowhead United Way's Volunteers United program and Inland Empire United Way's Volunteer Initiative, ieVolunteers.
A total of 53,821.55 hours of service were volunteered by 1,141 high school students from 11 schools in the past year, according to a program news release.
This year's top student with the most hours volunteered was Estrella Moreno from San Bernardino High School, earning the Top Dawg Award. Estrella volunteered 854 hours through Dignity Health at St. Bernardine Medical Center's Family Focus Center where she assisted with daily routines, special event projects and monitoring youth that attended the after school program.
Kiran Rawtani and Hailey Stuck from Redlands High School earned honorable mentions for more than 500 hours volunteered.
Students with 25 hours or more were recognized with awards and many with service letters and certificates from local dignitaries. Students also received a swag bag filled with items donated by Arrowhead and Inland Empire United Way and Inland Center Mall stores.
"The value of a volunteer service hour for 2017 is $24.14 as determined by the Independent Sector; therefore, a contribution valued at $1,299,252.22 has been provided to our community," said Terri Relf, Senior Marketing Manager for Inland Center Mall in a news release.
"We are so grateful to be able to honor these wonderful high school teens for unselfishly volunteering their time to help others in our communities," said Relf.
Since the inception of the awards ceremony in 1993, a total number of 14,188 student volunteers completing more than 1.3 million hours have been recorded, Relf said.
Communities that have benefited from volunteer hours performed by the students are: Colton, Grand Terrace, Highland, Loma Linda, Redlands, Rialto and San Bernardino.