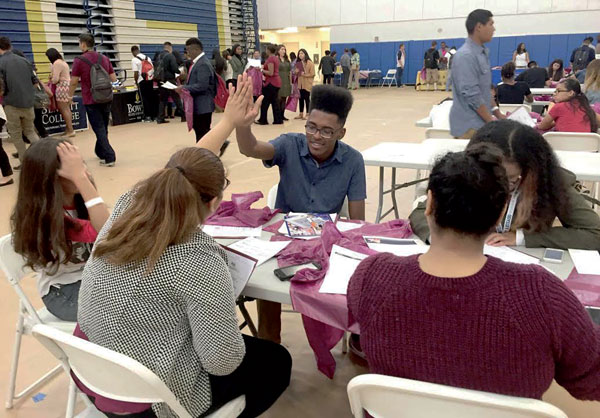 Rialto High School's Chelsea Lawson earned full tuition and $800 toward books to pursue her college education thanks to the 17th annual Historically Black College Recruitment Fair.
This year's event, held Sept. 20 at Carter High School in Rialto, brought thousands of students from four local school districts including Rialto, Fontana, San Bernardino City and Moreno Valley to participate.

The recruitment fair, presented by the nonprofit United College Action Network, Inc., assists students in attending historically black colleges and universities. It brings more than 30 representatives from the colleges and universities to recruit college-bound students on-site during its 12 stops in California as part of a 14-day tour this month.
"We're excited because these colleges come to make a difference in the lives of our kids," said Alan H. Rowe, president of U-CAN.
"They come to impact our community and change the world."
This year's Inland Empire stop marks the third season U-CAN partners with the local districts.
Some of this year's participating colleges included: Alcorn State University, Bennett College, Benedict College, Bethune-Cookman University, Clark Atlanta University, Dillard University, Fisk University, Florida A&M State University, Grambling State University, Hampton University, Howard University, Langston University, Lincoln University, MO, Livingstone College, Miles College, Morgan State University, Savannah State University, Shaw University, Spelman College, Stillman College, Talladega College, Tougaloo College, Texas Southern University, Tuskegee University, Virginia State University, Wilberforce University, Wiley College and Xavier University of Louisiana, among many other colleges and universities.
Each college fair event is free and open to the public and all students.
To learn more about U-CAN, visit www.ucangotocollege.org