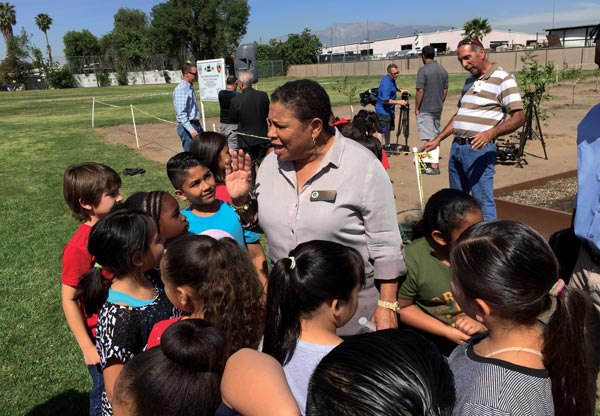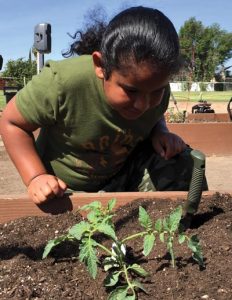 Students at Kelley Elementary in Rialto accepted Mayor Deborah Robertson's challenge to conserve water. Now, she wants to know, are you ready?
Robertson announced last week she's joined mayors from across the country in asking residents to make a long-term commitment to managing water resources more wisely by taking part in the annual Wyland National Mayor's Challenge for Water Conservation.

The challenge, which kicked off April 1, runs throughout the month and encourages residents to make online pledges in following a series of easy-to-do actions to use water more effectively, reduce pollution and save energy. In return, Rialto water-savers can win water-saving home products, gift cards and even a 2017 Toyota Prius.
Robertson took action in jumpstarting the campaign March 30 by announcing the challenge at Kelley where a water-wise garden, complete with fruit trees and vegetables, are growing. The garden is part of Rialto Unified School District's Heritage Citrus Grove and Garden Project, managed by Brian Montez, the district's Grounds Maintenance Supervisor. Kelley is one of 16 elementary schools in the district with a blossoming water-wise garden, he said.
The challenge comes as the region's groundwater basin levels are at a record low. And with the basin supplying more than half the drinking water for the city, the long-term commitment to manage water resources more wisely is more crucial than ever, Robertson said.
"Saving water is not only a good practice to do every day, but it's especially important given the circumstances with our local aquifer." Robertson said. "I call on every resident to take the pledge to do the right thing to make Rialto the most water friendly city in the United States."
While the campaign runs through April 30, Robertson wants residents to understand that the challenge is more than just making a pledge to save water this month, it's a call to take action to conserve in homes long-term with resources and cost-saving tips offered by the agencies.
"Rialto Water Services, operated by Veolia and West Valley Water District, offers various rebates to make (the commitment) easy," she said.
Residents can take the challenge by making a series of online pledges to conserve water on behalf of the city.
Cities with the highest percentage of residents who take the challenge in their population category are entered into drawings for hundreds of eco-friendly prizes, including home improvement gift cards, home irrigation equipment, and the Prius.
Pledges can be made at www.mywaterpledge.com.