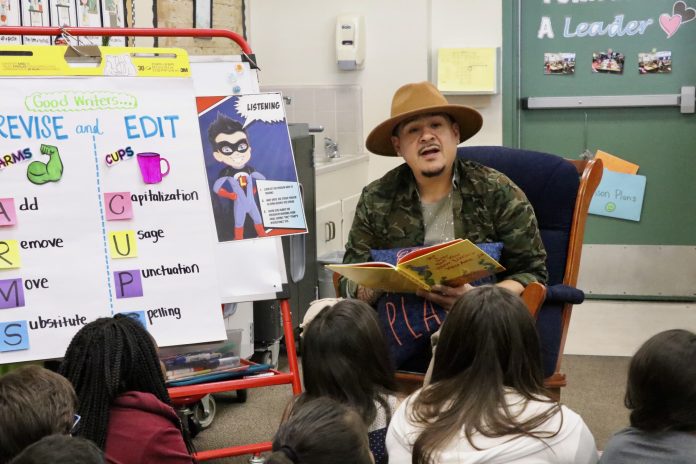 Have you listened to the sounds of DJ IZ Avila?
Maybe, if you're a big fan of pop music.

Avila, a five-time Grammy Award-winning musician, spent his morning on March 2 speaking to third and fourth graders at Barton Elementary School in San Bernardino about the impact arts could have on their futures.
The musician's visit was organized by Turnaround Arts, which provided Barton a grant for arts programs back in 2014.
Avila, a graduate of Eisenhower High School in Rialto, began the morning by reading "Did I ever tell you how lucky you are?" to Summer Gonzales' third grade students. He later spoke to Colleen Linnenkamp's fourth grade class and Grace Schmidt's third grade Visual Arts class.
"We didn't have programs like these for us," he said to Gonzales' students. "You all here are really truly lucky."
Avila has helped sell more than 40 million records. He performed during Barack Obama's presidential inauguration in 2013 and at charity events with U2's Bono and legendary musician Stevie Wonder. Avila is best known for his live DJ work, which includes tours with Usher and other best-selling musicians.
As a native of the Inland Empire, an area that has historically struggled to provide after-school arts programs to youth, being a part of the turnaround arts program "resonates" for Avila.
"These types of programs, like Turnaround Arts, are able to touch the lives of children in real time," said Avila. "When you see the expression and energy you get from these kids, it makes you say, 'Why isn't more of this happening?"
Avila had one important message for the students: "Have fun and go for what you love."