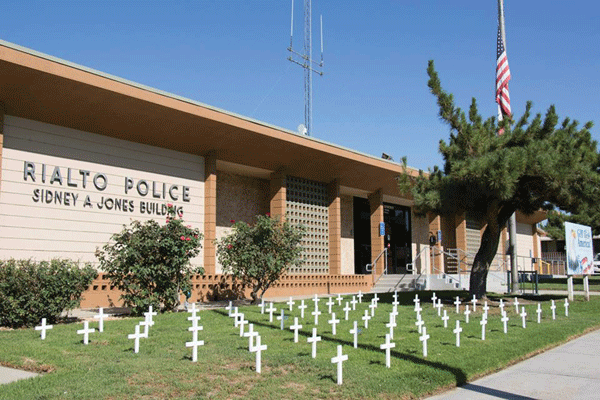 Rialto police and fire will mark the 15th anniversary of the 9/11 attacks with a remembrance ceremony Sept. 10.
The ceremony will begin at 10 a.m. and will be held between the Rialto police and fire departments along Willow Avenue.

The special presentation will feature guest speakers from both agencies, including words from Rialto police Chief Randy De Anda.
To honor and pay tribute to the first responders who lost their lives, 403 white wooden crosses will be placed on the lawns of Fire Station 201 and the Rialto Police station. To commemorate the 15th anniversary, red ribbons will tied around 343 crosses in remembrance of lost firefighters and blue ribbons will tied around 60 crosses to honor the fallen police officers.
"This is something that is very near and dear to our hearts," said Rialto police Ofc. Dwuan Rice. "We've all taken that oath to make the ultimate sacrifice, and those men and women gave their all."
The Saturday event will mark the third annual remembrance ceremony for Rialto, and organicers are encouraging the community to attend.
To learn more, visit www.facebook.com/RialtoPD.