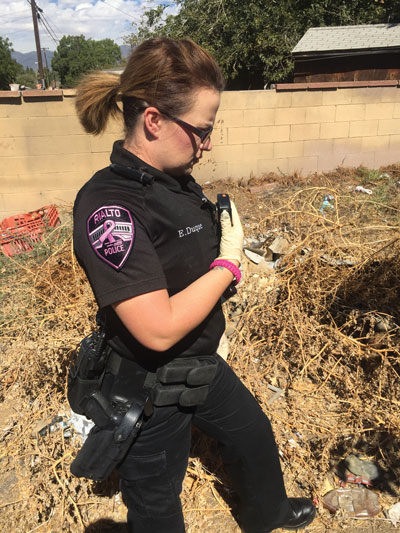 Rialto police are thinking pink.
Members of the department are sporting pink-colored patches throughout the month of October in support of breast cancer awareness and the 2016 Pink Patch Project, a collaborative cancer awareness fundraiser in conjunction with more than 60 police agencies across the country.

"Cancer doesn't discriminate. It's something that affects everyone and we wanted to do our part to help bring awareness," said Sgt. Robert Morales, who helped design this year's patch.
The project is backed 100 percent by department members, especially Rialto Police Records Clerk II Patricia Gomez, who says wearing the pink patch is more than just being on board with the cause.
"It's something that hits close to home" she said and wears the patch proudly in support of a family member.
This is the third year the department joins the movement and although pink patches will not be for sale, Morales is working on finalizing t shirts to help raise funds. Last year, proceeds from patch sales benefitted Michelle's Place in Temecula. This year's donations and t-shirt sales will go toward funding the Rialto Police Officer Memorial.