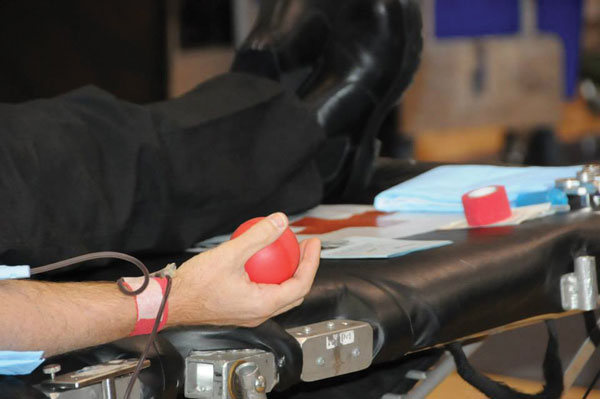 It's time for Rialto Police and Rialto Fire to go head-to-head in the annual Battle of the Badges Blood Drive next week.
Now in its fifth year, the annual blood drive will begin at 10 a.m., Jan. 11 at the Rialto Community Center, 128 N Willow Ave, and continues until 4 p.m.

The event brings members of both departments along with city officials, residents and area supporters to donate blood to the American Red Cross cause, all to help save lives. Donors can submit a vote for their department of choice to help in the friendly competition.
Rialto Police have retained the coveted title now for four years.
Last year's drive led the department in a 17 vote lead over Rialto Fire — a total of 30 votes were tallied for police and 13 votes were tallied to benefit the fire department.
But it was the community banding together to make the cause a success.
Thirty-eight of 40 donations last year were viable collections, which will potentially impact dozens of lives, said Rialto Police Department's Kim Martin, who organizes the drive.
And the hope is to bump those numbers up even higher this year.
The competition between the departments started five years ago as a way to increase blood donations in December and early January, when donations typically drop to low levels during the holiday season, according to the American Red Cross.
Blood donations are accepted year-round at the American Red Cross.
To participate in this year's Battle of the Badges Blood Drive, visit www.redcrossblood.org or call 800-733-2767.