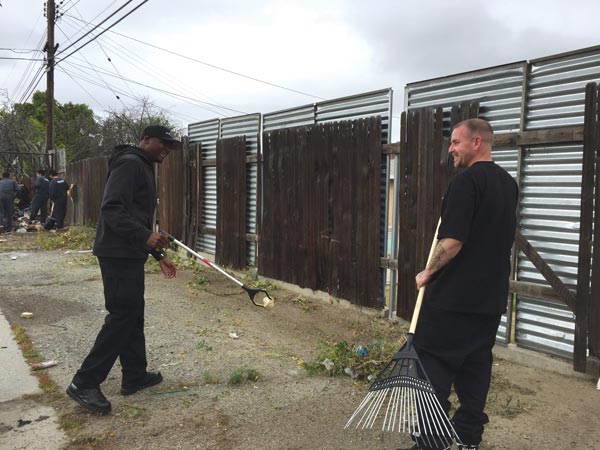 Walter Castro has only lived in Rialto's Cascade Drive apartment units for about a month, but he's already doing his part to help make it better.
"We live here, so gotta help," he said.

Castro was one of a handful of residents in the housing units lending dozens of Rialto Pride Platoon cadets, Rialto police and explorers a helping hand in cleaning up the housing complex Saturday morning.
With rakes, shovels and pickers in hand, cadets and explorers worked to collect piles of litter, broken bottles and discarded household items into a dump bin, while police worked to trim down and pull weeds surrounding the backend driveways of the units.
The cleanup was part of Pride Platoon's ongoing community service efforts and the police department's community policing initiative to spruce up blighted areas of the city, said Ofc. Dwuan Rice.
Spearheading the project, Rice coordinated with several groups including the Community Outreach Program, which addresses problem areas in the city and the Inland Fair Housing and Mediation Board, to help discuss tenant rights and address concerns.
The collaborations are all part of creating a sense of pride among the residents living on Cascade Drive, Rice said.
While the cadets typically clean up city parks, having them tend to a blighted neighborhood in the city would hopefully spark a sense of pride among
"Hopefully we create encouragement among the residents," said Rice.
"We wanted to show them that we do care about the people on this block. We want to encourage them to take pride in their homes and their neighborhood. Hopefully this is a kickstart for them and they keep the area up."