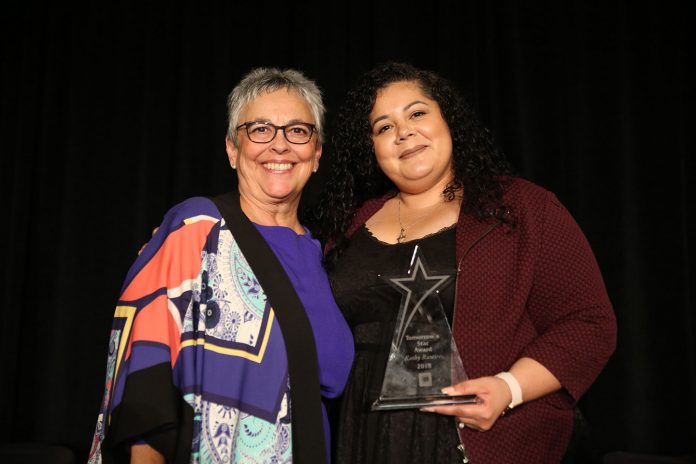 Kathy Ramirez, operations manager at Inland Valley Federal Credit Union in Fontana, was among those honored at the California and Nevada Credit Union Leagues' REACH 2018 Conference.
The Rialto resident received the Leagues' Tomorrow's Star Award, which recognizes the achievements by young credit union professionals age 35 and under. She was honored during the annual meeting and convention for the Ontario, CA-based trade association for the two states, held Nov. 6-9 at the Loews Hollywood Hotel in Los Angeles, CA.

Ramirez was hired as a member service representative at the credit union in 2007—it was her first job within the credit union industry. Through the years, she has steadily gained new responsibilities. She was promoted to operations lead in 2014, supervising the front office operations including lending. Today she's the operations manager.
"Kathy has become an expert on our core processor system and frequently provides assistance to other credit unions who share the same platform," said Inland Valley Federal Credit Union CEO Chuck Papenfus. "She is a tireless advocate of financial education and services to the underserved Latino community served by Inland Valley FCU. She works with many local community organizations and schools in Fontana and Rialto to provide information on credit unions and has performed seminars on managing money and budgets for employees of our local businesses."
Ramirez was flattered to receive the award. "I am honored and humbled to be recognized by my credit union peers and leaders in this industry," she said. "This award validates my belief that hard work and dedication really does pay off and stands as a positive example to my daughters and young women in our community that success comes to those who are passionate."