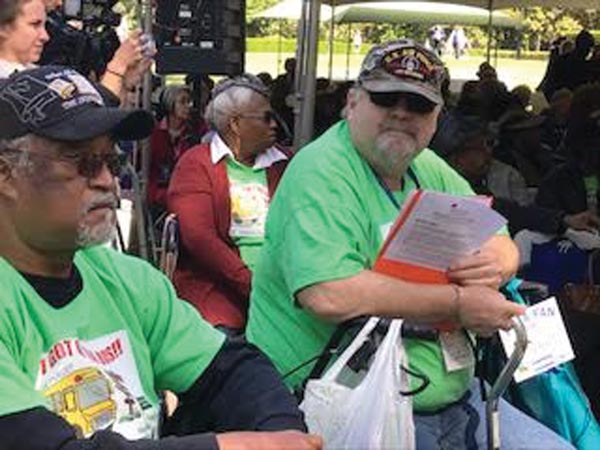 What do you do when you hear that senior healthcare benefits and other issues are on the chopping block?
"Organize," said Maricela Ferguson of iHelpIE.

Dozens of seniors loaded a bus at midnight May 10 and took a bus trip to the Sacramento Senior Rally Day event.
The seniors arrived early Thursday morning and sipped coffee they had brought, all donated by Coffee Nutz in Rialto. They wore bright green T-shirts to boldly, visibly show they were from Rialto/IE.
The Rally purpose was to provide an opportunity to raise awareness about the many issues facing older Californians such as: poverty, healthcare, family caregiving, transportation and housing. Some iHelpIE seniors joined a legislative visit, other heard presentations on what's happening with federal seniors' policy and others met with policy experts and their legislators to stress legislators make senior issues a priority.
Seniors cheered, some danced, others networked and collaborated with more than 400 other seniors who have a vested interest in aging issues.
"It was great to see our seniors networking, engaged, asking questioning and excited to return home, hopefully, to be more involved in local decision making," Ferguson said.
The trip was made possible by Diamond Sponsor, Ca. Commissioner Cheryl Brown and Jewel of the IE sponsor, City of Rialto.
iHelpIE, senior advocacy meets the second Friday at 12:30 at the Rialto Grace Vargas Senior Center,1411 South Riverside Avenue in Rialto.
To learn more, call or text 909-717-2083 or email ihelpseniors2@gmail.com.
~iHelpIE