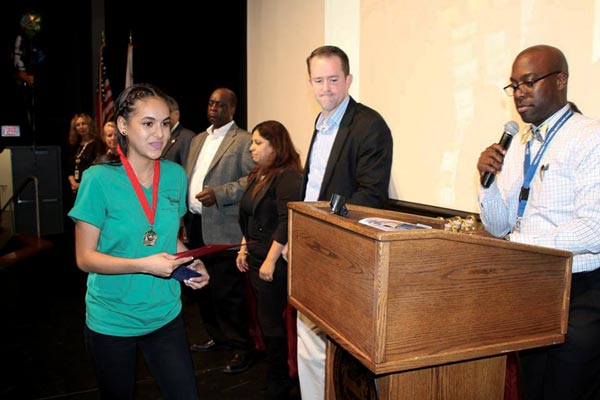 Students from across the Rialto Unified School District won awards at the 2017 Science and Engineering Fair Feb. 8 at Carter High.
This year's top schools included Rialto and Carter High schools, Jehue, Kolb, Kucera and Rialto middle schools. Student winners from Bemis, Boyd, Casey, Curtis, Dollahan, Fitzgerald, Garcia, Henry, Simpson, Trapp and Werner elementary schools were also honored.
The district science fair is supported through a partnership with Veolia Water's Generation Stem Program and provides scholarships to students whose STEM or water-related projects are selected as winners.
Through the educational program, students learn to investigate and explore science, technology, engineering and mathematics through project-based learning by way of 21st century skills.
The aim is to stimulate student interest through Next Generation Science Standards and prepare them for STEM-related careers and higher education.
This year's scholarship winners included:
Yahir Seguviano – Garcia Elementary "Formation of Tornadoes"
Nikkita Serrano – Kolb Middle School "The Effects of Oil Spills on Aquatic Plants"
Group Project:
Rialto High Michelle Zamora Leslie Sanchez Kimber Bobadilla "The Effects of Daphnia on Water Potability"