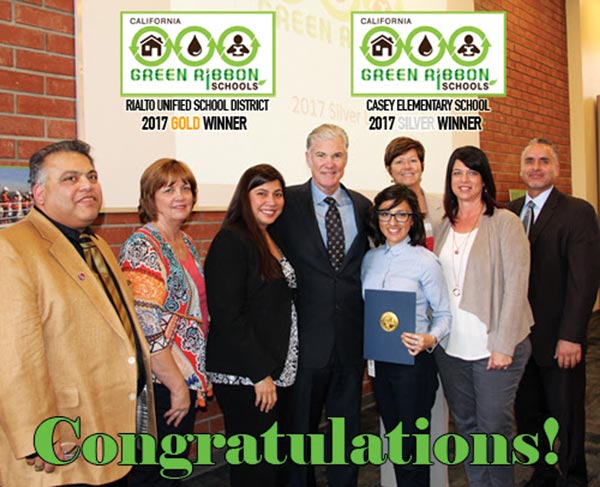 Rialto Unified School District and one its schools were recently awarded a California Green Ribbon Award through the U.S. Department of Education Green Ribbon Schools recognition program.
Rialto Unified received the Gold Ribbon award March 3 and Casey Elementary was honored with the Silver Ribbon. The CGRA recognizes excellence in whole school sustainability and environmentally friendly, student-focused initiatives.

According to a news release from the office of State Superintendent Tom Torlakson, Green Ribbon Schools demonstrate exemplary achievement in three pillars:
Pillar I: reduce environmental impact and costs; Pillar II: improve the health and wellness of schools, students, and staff; and Pillar III: provide effective environmental education that teaches many disciplines and is especially good at effectively incorporating science, technology, engineering, and mathematics (STEM) education, civic skills, and green career pathways.
"These schools and districts serve as role models for their students in two important ways," said Torlakson in the news release. "First, they manage their own facilities wisely by saving energy, conserving water, and reducing their impact on the environment. Next, they provide innovative education programs that teach students about nature, the importance of clean air and water, and how to make good choices to preserve the environment for future generations."