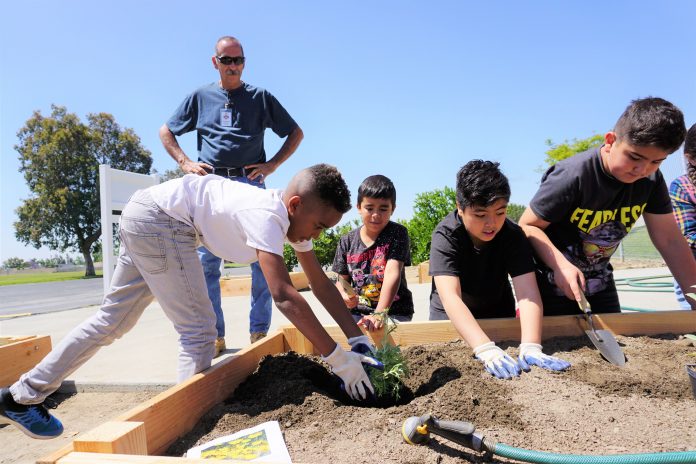 Rialto Unified School District has received the ​2019 U.S. Department of Education's Green Ribbon School District Sustainability Award (ED-GRS)​. The RUSD was the only school District in California to be honored, and one of only 14 districts in the nation. The ED-GRS aims to recognize individual schools, districts and institutions for higher education that meet the following criteria in their environmental literacy efforts: ​the reduction of environmental impact and costs; the improvement of health and wellness of schools, students, and staff; and the ability to provide effective environmental and sustainability education.
"This is a tremendous recognition of the hard work being done by teachers and students, with the collective support of parents, district staff, and community partners," replied ​RUSD Superintendent ​Dr. Cuauhtémoc Avila. "The reward is not something physical that we can hold, rather, it is the lead that our District has taken in cultivating an introspective view of environmental issues and how to be proactive in addressing their impact on our local and global communities. The students in our District will transition to college, or the workforce, as agents of change, in general, and environmental stewards in particular."

Throughout nomination process, the District highlighted its RUSD STEM CARES ​(Science, Technology, Engineering and Mathematics Cultivating Active Responsible Environmental Stewards) initiative that uses locally relevant environmental issues to inspire students to think globally and act locally to improve their community and their world. This nomination, submitted on the District's behalf, by the California Department of Education, also stated that it believes that all citizens have a responsibility to be environmental stewards, striving to integrate sound environmental principles and practices both in and out of the classroom.
"Congratulations to these schools and District for engaging kids to understand and act on environmental issues," stated ​State Superintendent Tony Thurmond​. "The great programs they've created help students gain the knowledge they need to lead the way on global-sized problems like climate change and local challenges like water quality." ​Superintendent Thurmond visited the RUSD last March supporting the State's 2019 Green Ribbon Awards, which also recognized Morris Elementary and Milor High schools for their environmental literacy efforts.
"It is a great honor to have the RUSD selected as a nationally recognized 'Green Ribbon School District,'" said Brian Montez, RUSD Grounds Supervisor, and advocate for environmental sustainability education. "The journey to bring the 'Heritage Citrus Grove' and garden projects to the students of our district has been an exciting experience. The groves and gardens provide an innovative outdoor classroom setting to help support the District's core curriculum from kindergarten through fifth grade. The gardens also provide a living classroom for students to plant and grow their own food to eat at their school, and also market to the public through farmers markets."
An RUSD team of administrators, teachers, and students will accept the award at a ceremony in Washington, DC in September 2019.
"We are humbled to be able to serve the students and families in our community. Environmental literacy gives all members of the community the tools they need to advocate for their health and that of the community," said ​Dr. Edward D'Souza​, Lead Academic Agent, of RUSD's math and science, college and career pathways. He added, "Attaining the Department of Education's Green Ribbon School District recognition is a testament of the strong partnerships within the RUSD family and between the RUSD and its local community."