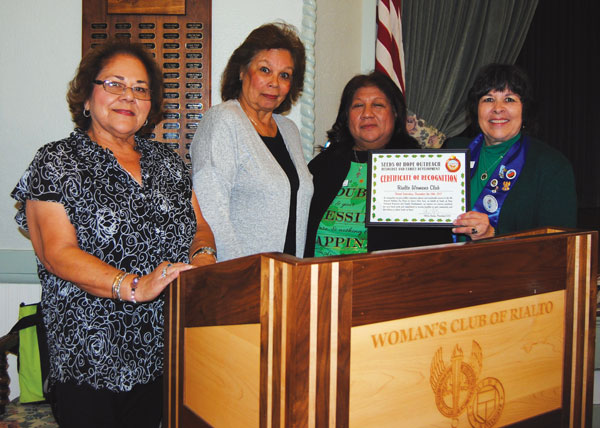 On Wednesday, March 7 the Woman's Club of Rialto held their monthly meeting in which, like most clubs, featured financial reports, reading of correspondence, news on general club activities and some details regarding various community involvements.
The club members were treated to reports from several Rialto business professionals, one of whom was Albert Calderon, an associate of H & R Realty, who shared highlights of a planned business mixer to be held at the Women's Club on Tuesday, March 20.  He is sponsoring the mixer as a fundraiser for senior citizens to make a trek to Sacramento to visit the capitol and speak directly to state law makers about issues affecting seniors.  All community businesses were encouraged to participate and several political representatives will be in attendance.

News of the upcoming Fashion Show, to be held on April 21, 2018 was given.  This year's theme will be Springtime in Paris and tickets are available now.
At the end of Club business, there were two presentations of awards.  The first award was given to the Rialto Rotary Club for their help in upgrading the Woman's Club of Rialto's headquarters.  Rialto Rotary members Kathy Thompson, Terry Thompson, Butch Araiza, Barry Valdez, Jim Shield, Ken Shattuck, Jim Ott, Lynn Hirtz, Diane Shields and Kathy Holm were presented with a Certificate of Recognition for their efforts.
Another award was presented to the Woman's Club by Gloria Gaona, founder and CEO of Seeds of Hope in Colton. Gaona honored the Woman's Club for their help with the annual Seeds of Hope Christmas event in which over 400 children were given Christmas gifts through the generosity of groups like the Woman's Club.
For more information on the upcoming Business Mixer at the Woman's Club of Rialto, please contact Albert Calderon at 626-373-4962.  For more information on the Woman's Club of Rialto please call Kathy Holm at 909-874-3171.