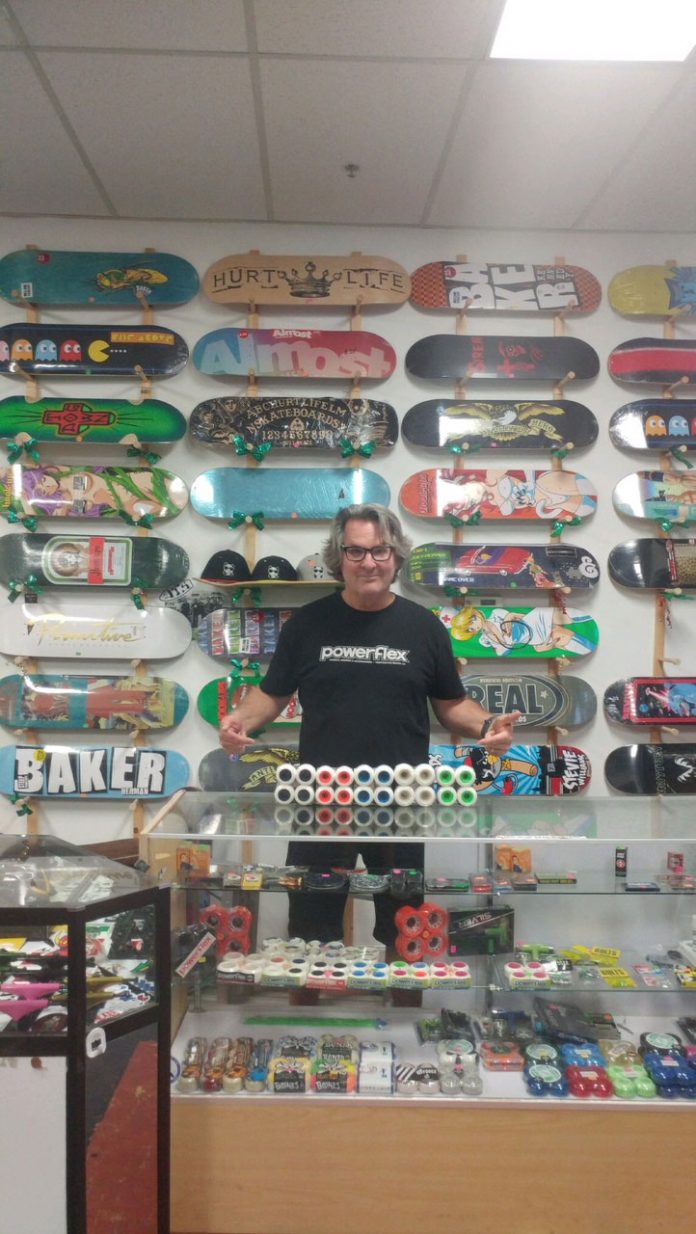 Rise Above Skate Shop is only two years old, but it's aiming to make waves with the youth.
The owners of the shop, Rey Naldo and Michele Gutierrez, opened the business after being laid off from their previous 10-year-long careers.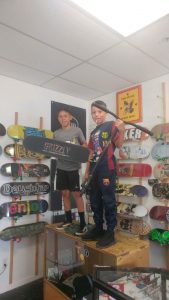 "We noticed there wasn't a skate shop in the city of Rialto and wanted to serve the skate culture. My wife and I both lost our jobs and we both love being around kids. I was a coach at Carter High School, we've always been around the youth, so we felt that a skate shop was the perfect fit," said Naldo.
Last year the board shop teamed up with Kucera Middle School and Curtis Elementary School to give demonstrations.
"During these demonstrations we talked about the science behind skateboarding. We had kids demonstrate a few tricks to the school-wide audience, and discussed what tricks they were doing," continued Naldo.
He said the tricks performed consisted of an ollie, a hippie jump, a kick flip and a pop shove it.
"An ollie transverses different levels and height, the hippie jump demonstrates a parabolic arc if you were to graph a motion, it demonstrates that the friction of the wheel on the ground is equal to friction of your body in the air. A kick flip demonstrates how the board flips on the axis rotating horizontally. A pop shove it demonstrates how the board travels 180 degrees," Naldo said.
He says one of his biggest passions in life is working with youth and he aims to show the students how smart they truly are through skateboarding.
"We want students to understand how smart they are. We feel skateboards are more of a tool than a toy, the kids know stamina, velocity, and speed. Every trick they do is pure math. We want their grades to reflect how smart they are, they demonstrate it everyday; they're already doing high school level math and science through skateboarding," said Naldo.
The 25-year Inland Empire resident and board-shop owner also works at the shop throughout the week with his wife.
"We assemble our skateboards here as well. We're hands on, it's so fun building the boards, we have all the pieces together, but we don't know how you're going to build your specialized board," continued Naldo.
Not only does the shop carry skateboards, they carry apparel as well.
"We also carry apparel. We have Primitive, Baker, and Thrasher. We also carry some local companies apparel such as Litt and Street Panda Clothing. We even have local artists come in and put graffiti art on the walls; we enjoy promoting other people," said Naldo.
Rise Above Skate Shop is the first skate shop in the United States to carry Street Panda Clothing, as it originated in the United Kingdom.
"We currently have a back to school sale going on. We have $20 board days; you get a skateboard and grip tape for only $20. Our customers can purchase a custom complete board for only $80," concluded Naldo.
Rise Above Skate Shop is located at 150 West Baseline, Unit D, in Rialto. For more information, call 951-212-0272.