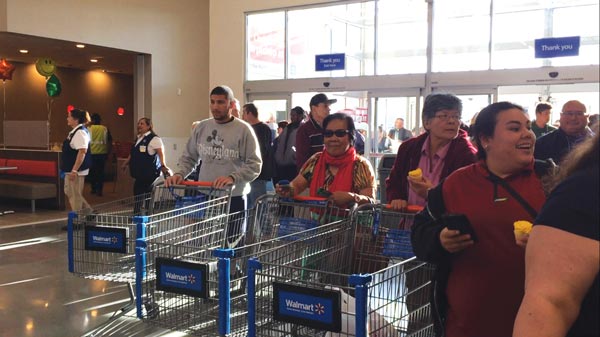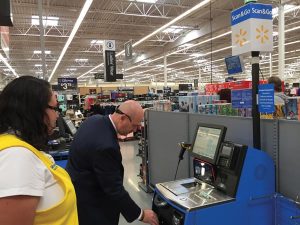 The new Walmart Supercenter in Rialto is now open.
Hundreds took part in a grand opening celebration of the long-awaited store last week, with some waiting hours to get a look at the new Rialto Marketplace shop along San Bernardino and Riverside avenues.

Before associates opened the doors to the store, known to Walmart officials as location 1862, employees led a hearty chant to get anxious and excited customers revved up. The celebration continued with cupcakes, high-fives and giveaways.
"We are excited to be able to provide our customers with a shopping experience where they can find everything they need in one store, save money and live better," said Eric Santillan, store manager.
The more than 203,000-square-foot Rialto Supercenter at 1366 S. Riverside Ave, features a full grocery store with fresh produce, meat, and pantry staples in addition to organic food choices, a full-service deli and in-store bakery. Other features include a pharmacy, automotive center, sporting goods, electronics, furniture, home improvement, apparel and toy departments.
The store expansion and relocation created 85 new jobs for locals and is the anchor for the Rialto Marketplace development, a retail area that is expected to be an economic driver for the city, officials said.
Chipotle, Pieology, GNC, Jersey Mike's, Carl's Jr., T-Mobile, Les Schwab Tires, Ono Hawaiian BBQ and Menchie's Frozen Yogurt are among the businesses will join Walmart as center tenants. A 7-11 along with a gas station is opening as well.
The April 5 opening of Walmart also marked the retail development's grand opening, said Sanford Sigal, president and chief executive officer of NewMark Merrill Companies
"It's taken us 13 years to get this far through a number of economic cycles," he said, "but we're really excited about this deal. The reality is to take the south end of Rialto and make it a place where businesses thrive and residents frequent."
Construction of the center began June 2016. The marketplace is expected to fully running by June of this year, said Sigal.
Applicants interested in careers at Walmart can apply online at Walmartcareers.com.