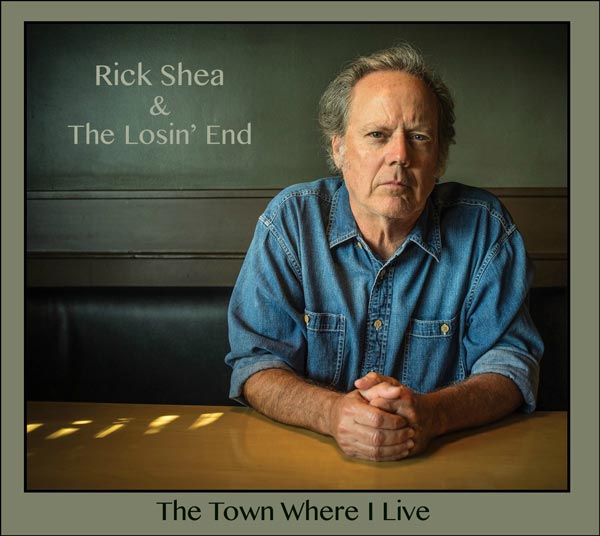 The train keeps chugging for Rick Shea as he prepares to release his 10th country/folk album and readies to perform at the 2017 Roots on the Rails Tour. Shea, a 1971 graduate of San Gorgonio High School might not be a household name in San Bernardino, but his body of work as a writer, vocalist and guitarist has earned international recognition. His contributions to noted pop musician Dave Alvin's album, Public Domain, helped gain it a Grammy Award in 2000.
Shea has performed live primarily at Folk and Americana festivals in North America but has produced an album in England. After being featured on the two week, Roots to Rails Tour train trip in August, he is booked in September for country festivals in Lake Tahoe, Berkeley and Amesbury, Massachusetts. The tours will coincide with the release of his album, "The Town Where I Live" on Tres Pescadores Records.

Shea's resume shows performances and recording sessions with Dwight Yoakim, R.E.M., Los Lobos, Lucinda Williams, Mary McCaslin and Rosie Flores. His bio does not include his highest profile performance in 1999 when he was billed with Dave Alvin at Madison Square Garden with pop idols Bob Dylan and Joni Mitchell. He's also appeared before capacity crowds at Toronto Maple Leaf Arena and Chicago United Center.
Although Shea now lives in Covina and has not performed in San Bernardino in years, he keeps his hometown close. His self-penned 2013 tune "Sweet Bernadine" describes his view of life and turf in San Bernardino. The accompanying video includes local clips of the Arrowhead, Muscoy, Devore streetscapes and plenty of trains.
"It is very heartbreaking to hear what is happening in San Bernardino. It's my hometown and I'm still attached to it."
In a telephone interview, it was obvious that Shea is not into self-promotion. He talked fondly of times 35 years ago playing in beer bars in front of sometimes rowdy patrons in San Bernardino. He was in house bands like the Fugitives that played seven days and nights a week. He got out of town alive after playing the old honkey tonk circuit that included the Silver Spur, Clyde's, Colorado Kid, and the original Bob and Bernie's Brandin' Iron in San Bernardino.
Shea rattled off the names of Loretta's in Fontana, the El Monte Nashville West and Lloyd's in Running Springs. He recalled spending many nights perfecting the pedal steel guitar at the Penny University coffeehouse.
"It was a different era. People went out and danced. Every little town had their own little bar. Now, people don't go out as much," said Shea. "Everything changes. The bars used to lock the doors at 2 a.m. and we'd keep playing. They'd open back up at 6 in the morning."
He said the crackdown on drunk driving played a major role in the slowdown of the music scene in bars and nightclubs. Shea said there were times when he worked as a carpenter to support his family but there was never a time when he ever stopped playing music.
Shea says he flew under the radar at San Gorgonio HS and acknowledged he was not good enough to play in its performing band. He formed his first band ten years after graduation with classmate Tracey Zelwig. He later featured the song, San Bernardino Waltz that was penned by former Muscoy residents Jim Ringer and Mary McCaslin. The San Bernardino Waltz received national underground airplay however is still not well-known in San Bernardino.