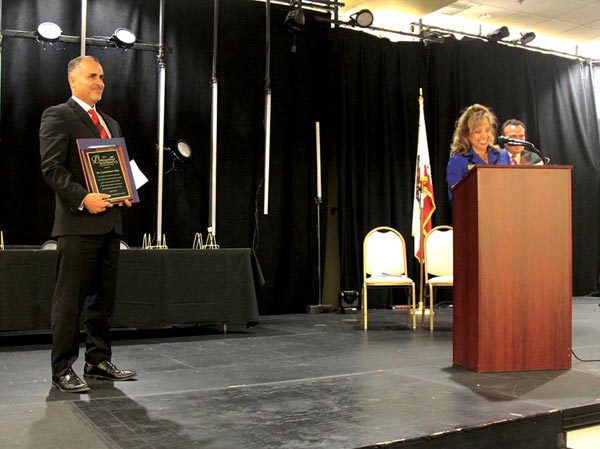 Rialto Unified School District Superintendent Cuauhtémoc Avila is among one of the recipients of the 2017 San Bernardino County Distinguished Service Award.
"Avila has quickly made his mark in Rialto, bringing a leading voice in providing service both as an educator and advocate of uplifting the community," a news release from the San Bernardino County Superintendent of Schools stated.

The award, which started in 1998, recognizes up to two individuals for exceptional leadership and service to public education in the county; those who have been willing to take risks to improve educational opportunities for students; have had broad community involvement; and have been willing to speak out on issues that have an impact on children.
"With more than 23 years of experience in public education, – starting in 1994 as a middle school teacher in Compton – Avila's strong work ethic combined with his calm and measured approach has been transformative for Rialto," the release stated.
"When he began as superintendent in 2015 with the district that has more than 26,000 students and 29 schools, he held his first management team meeting where the "meetings" taking place were with the public. Calling it Leading Through Service, Avila tasked his management team to volunteer with service clubs, businesses and youth/senior programs. The service project approach made a lasting first impact on Avila's tenure not only with Rialto staff, but throughout the community."
Avila has also led a new district strategic plan and its new mission that promotes "today's scholars and tomorrow's leaders."
Judy White, who also received the Distinguished Service Award, brings four decades of work in public education within two counties. She's the first female and African American to hold the position of superintendent of Riverside County, and is called a "trailblazer," and strong educational leader, the release stated.
The Distinguished Service Award competition is co-sponsored by the San Bernardino County School Boards Association (SBCSBA), the San Bernardino County Superintendent of Schools, the San Bernardino County Committee on School District Organization, and the Fifth District PTA.