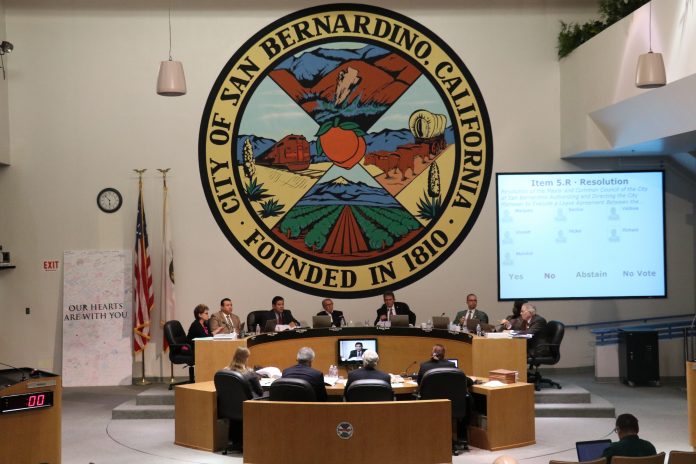 After long discussions and heated disputes, the San Bernardino City Council on November 7 decided to forego creating an ad-hoc committee and instead will host a workshop to address issues with homelessness.
The City Council also decided to reconsider a proposal brought forth by Mary's Mercy Center to develop a men's housing center on the westside.

The idea to create the committee was brought forth by Councilman John Valdivia, who argued the group would help city leadership better understand, "the dynamics of the situation."
"We spend a lot of time, debating and talking about issues of homelessness," he said. "The opportunity is best suited for an ad-hoc committee to address those concerns. What we need to do is create our own task force to complement those efforts at the County."
Councilman Fred Shorett proposed the workshop idea. He was critical of Valdivia's ad-hoc committee proposal–pointing out his lack of concentration in solving the homeless problem. He also rebuked Councilmembers Henry Nickel and Bessine Littlefield-Richard for their initial opposition of Mary's Village.
"I believe our position is that we want to give the help to those who need it," said Shorett. "You've been dead set against [Mary's Village]. I don't think a task force or ad-hoc committee is the right way to go."
Councilwoman Virginia Marquez echoed Shorett's sentiments: "I respect the individuals who have been chosen for this committee. Have any of them been involved in the point-in-time-count?…Have they actually spoken to someone who is homeless? I think we should address this as a legislative body."
Nickel argued that an ad-hoc committee will help accomplish the task by looking at various perspectives, while building on past accomplishments and collaborating with county and state agencies.
"This is going to take a team approach," Nickel explained. "As a team, we will have differences in opinion. You end up with a better outcome when you look at things from different perspectives.
Councilman Benito Barrios believes handling the issue of homelessness provides a good opportunity for the city.
"Whatever it is, I propose we do it here now. Let's come together and come up with a resolution."
According to City Manager Mark Scott, the workshop will be planned for sometime in December. The public hearing to reconsider Mary's Village will be taking place during the December 5 Council meeting.