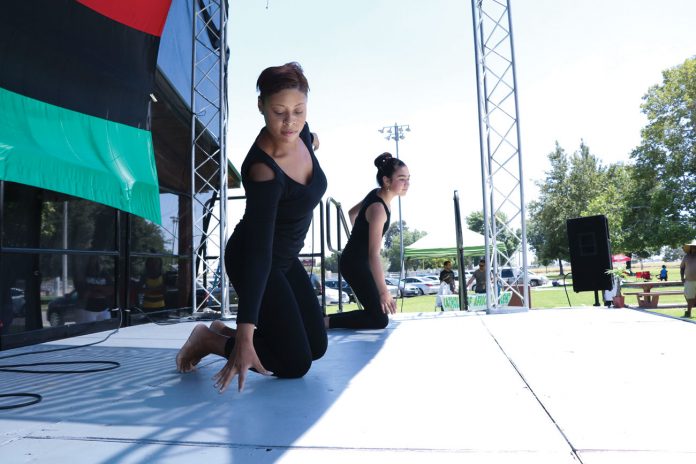 Hundreds of people gathered at Anne Sherrills Park in San Bernardino over the weekend to celebrate Juneteenth through art, culture, and dance.
Community groups–United Nations of Consciousness, C.H.O.R.D.S. Youth Enrichment, the Diocese of San Bernardino, and Young Visionaries–helped organize the event to provide residents with a "good time, great resources, and history."

"This is a historic day," said San Bernardino City Unified School District board member Gwen Dowdy-Rodgers, one of the event's committee members. "It's important for us to come together on this day as community and learn about culture. We are all one."
It was on June 19, 1865 that thousands of slaves were freed in Galveston, Texas through the orders of Major General Gordon Granger. Texas was the last state to emancipate its slaves; it came two years after President Abraham Lincoln's Emancipation Proclamation. Juneteenth has become an unofficial holiday in the U.S. Many communities celebrate the day by having social gatherings.
Edwin Johnson, Chief Executive Office of the C.H.O.R.D.S. Enrichment program, said the day's festivities focused on encouraging positivity. Johnson also pointed out that San Bernardino's Juneteenth celebration is not exclusive to African-Americans.
"There's a mixture of people in our community," Johnson said. "This is more than just about Juneteenth. It's about celebrating cultures, breaking barriers, not being afraid of [interacting] with one another."
Poet Kacee Kemiah demonstrated a more critical perspective of the African-American experience–portraying through spoken word their past and current plight.
//Pushed to the limits, we can't take no more// Today my people are focused, determined, and willing to grow// We demand our rights, our justice, and our peace// Because we will never, ever, forget Juneteenth//
Resident Jacob Ollin said he was unaware of Juneteenth, but is glad he learned more about its significance. He also praised the event's organizers for providing the community with information about health and educational resources.
"Many people don't know about these resources," Ollin said. "I think it's good they are out here. People need to feel like they're being heard and recognized."