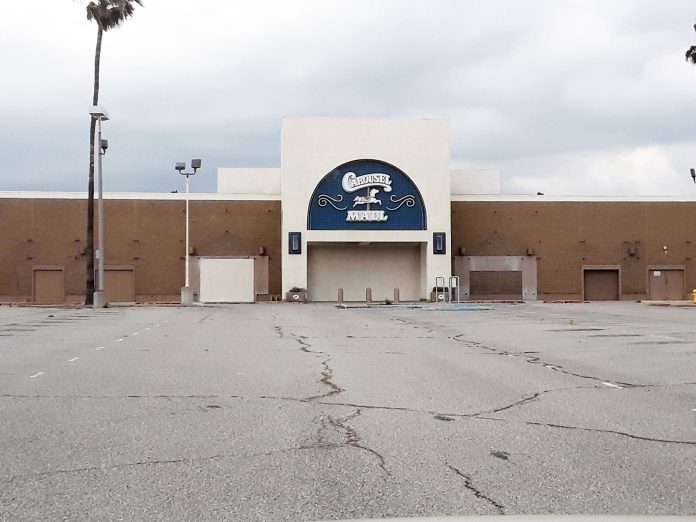 On Wednesday, May 15 the San Bernardino City Council authorized a request for qualifications (RFQ) soliciting interest in the development of the Carousel Mall property.
"We are excited to begin the RFQ process, we are excited about the potential of attracting international development in downtown San Bernardino," said Mayor John Valdivia.

The 43-acre property is located on E. Street, in the historic district of downtown San Bernardino.
"To provide guidance to interested parties, the RFQ will provide a general design and development parameters to work from. These parameters are drawn from the 2005 Land Use Element of the General Plan and from the 2009 Vision Plan for the Downtown," said Michael Huntley, community and economic development director.
According to the council agenda, some of those parameters include: Redevelop the Carousel Mall property as a destination attracting new businesses and residents to the downtown core of the city; Utilize place making concepts for the design framework of future development; Re-establishment of the historic street system in part or whole; Downtown revitalization would include urban development in a vertical mixed-use format combining high density residential, commercial and office uses; and Development patterns would include ground floor commercial, retail, service, entertainment and food oriented uses with residential uses allowed on the second floor and above.
"I have been informed by some people who know about this more than I do that going out for just an RFQ is moving too ahead of ourselves. We've been here for 10 years now, with two different organizations," said Councilman Fred Shorett.
"In the past we spent a lot of time and effort on this for nothing. I am very enthusiastic about supporting the downtown area, but the Carousel Mall failed because we had two malls in this area. I do see this as an opportunity, but we need to hire someone who can come out here and put together a marketing plan for what we are really envisioning," concluded Shorett.
During discussion, all councilmembers shared how they felt the property is a catalyst for growth in the downtown San Bernardino area.
The item passed 5-0, with a motion made by Councilman Henry Nickel and a second by Councilman James Mulvihill.

"I want to thank and commend our city staff…this is a very monumental and important step for our city to take, to begin the process. Since the early 1970s, the Carousel Mall has been the gemstone in the central downtown corridor," concluded Valdivia. For more information, visit http://www.sbcity.org/default.asp.