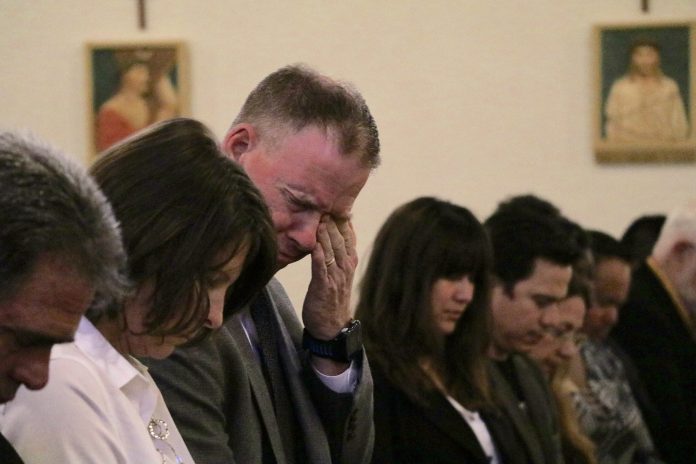 One is allowed to grieve on a tragic day, argued Diocese of San Bernardino Bishop Gerald Barnes. Though he hopes the community can once again come together in the wake of another disaster.
"Sometimes all we can do is cry," he said. "But there's much more that we have to do. "

Dozens of residents joined in prayer at the Our Lady of Assumption Church on Monday evening, just hours after three people died in a murder-suicide situation at North Park Elementary in San Bernardino.
Officials say Special Education teacher Karen Smith, 52, was gunned down by her estranged husband Cedric Anderson, 53, around 10:30 a.m this morning. Two students were also hit with gunfire; one was critically injured and another, 8-year-old Jonathan Martinez, died later from his wounds.
Members of the community rushed into the church shortly after 6:30 p.m to hear words of comfort from clergy, city, and school board leaders. They would later light and hold up candles in honor of the victims.
Mayor Carey Davis expressed his condolences to the friends and family of the victims and thanked law enforcement and San Bernardino City Unified School District officials for their work in quelling the issue.
"This tragic event has impacted our city's most vulnerable residents–our children," he said. "I'm sorry that our students, parents, and teachers have suffered these events. There is little to say that will comfort, so we stand with you, we lift you up in our prayers."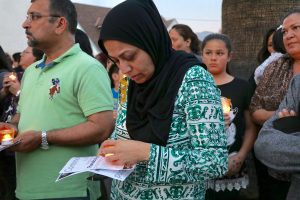 SBCUSD Superintendent Dr. Dale Marsden confirmed that about 100 district counselors and staff were deployed to Cajon High School and Cal State San Bernardino to help parents reunite with their children and provide emotional support to those in need.
"It's important we take advantage and provide support until the healing process is over," Marsden said about the large support. "I believe our staff did everything they needed to do."
Some residents spoke about Smith and her devotion to helping students with special needs. One individual, who asked to remain anonymous, said they remember the former North Park teacher as a "sweet woman."
"Whenever I was having a tough time working with students, she would help me out," they said. "It's very sad what happened. It could have been avoided."
Rachel Valles credits Smith with helping her son, Ethan, 8, become a better student at Math and Reading. Valles said she refrained from taking Ethan to school on Monday because she felt, "something wasn't right."
"I had a bad feeling," said Valles. "When I heard about the news, I literally almost fell. My son kept crying because he knew his teacher was gone. We're going to miss her."
Fauzia Rizvi, who serves as the General Secretary of the Islamic Society of Corona-Norco, described the tragedy as "heartbreaking." She believes two core issues within lower income neighborhoods–gun violence and mental health–must be addressed to avoid similar incidents.
"Without controlling these issues, we won't reduce violence," she said. "As leaders, it is our duty to find solutions."