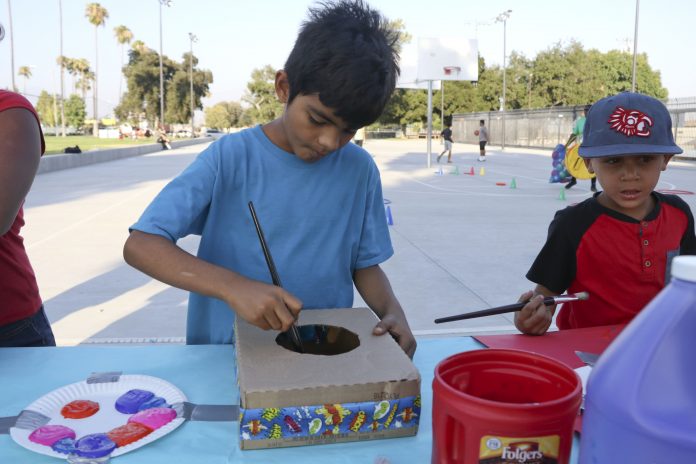 San Bernardino families can take in free movies by visiting their local parks throughout the month of July.
The city's Parks and Recreation Department held their first 'Movies at the Park' event at Nunez Park last Friday–screening the movie Kubo and the Two Strings for about 100 westside residents.

Recreation Program Coordinator Matthew Douglas confirmed that there will be a movie screening every Friday at various parks through July. Movies such as Star Wars Rogue One, Lego Batman, and Back to the Future are possible screenings.
"These events help build community," Douglas said. "We're trying to make the city a more communal place to be in."
Parks and Recreation officials haven't experienced any serious incidents in the four years they've organized the movie screenings, Douglas explained.
"We haven't had anyone get out of hand," he continued.
Zulema Valenzuela, who brought her son Diego, 8, to watch Kubo and the Two Strings, believes there are "dangerous elements" at the park. Nonetheless, she continues to attend community events because she enjoys the "good hearted" nature of city staff and neighbors.
"It's frightening at times to be here," Valenzuela explained. "But we need to build trust in our community."
Ruben Campos Supervisor Juanita Webster believes the Parks and Recreation Department has established "good rapport" with westside residents through its services.
"I think we're the epitome of community here," she said. "We are like a safe haven. If you're in need of something, we are willing to engage and listen."
Veronica Zaragoza and Arturo Rodriguez say Webster and others at Nunez Park and the Ruben Campos Center are understanding and empathetic of the community's needs. Zaragoza said the movie screenings is another way the city is helping her family reduce on costs.
"It allows us to do something fun without having to worry about resources," she said. "The help and information the department provides us means a lot."
The next movie screenings will be taking place on July 14 at Wildwood Park, July 21 at Bryce Hanes Park and July 28 at Delmann Heights Park. Festivities begin at 6 p.m. For more information, contact the Parks and Recreation Department at (909) 384-5233.