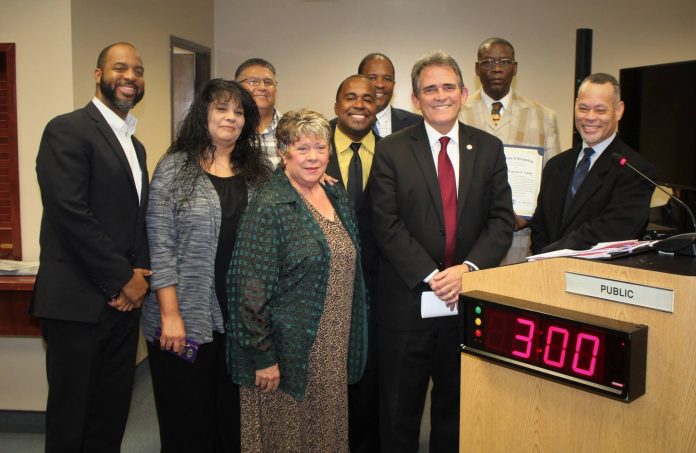 Faith based leaders were honored by San Bernardino city officials on Dec. 20 for their community contributions in 2017.
Known as San Bernardino Pastors United (SBPU), dozens of churches work together with law enforcement, city officials, and organizations to address the ongoing poverty and violence affecting residents.

Mayor Carey Davis read a proclamation during their council meeting last week, acknowledging their commitment and service in healing and changing San Bernardino.
According to Ecclesia Christian Fellowship Pastor Reginal Young, SBPU's efforts to curb violence and address poverty began after the Dec. 2 tragedy at Inland Regional Center. The high homicide rate in 2016, which saw 64 people succumb to gun violence in the city, motivated clergy leaders to "restore faith."
"I must ask that you join with us in our efforts to restore God's people," said Young. "We need your help in maximizing our efforts to bring about this healing, change, progress that we so eagerly seek."
Approximately 6,300 were provided food, clothing, and other essentials at several community block parties held this year. In addition to handing out necessary goods, SBPU held vigils and rallies to raise awareness of community issues.
The upcoming year will be a busy and festive one for SBPU. The faith based coalition is aiming to create various committees–a Mayor's, Law Enforcement, School/youth, and Social Service task forces–and will once again be holding at least three block parties in the spring, summer, and fall.
Young said he encourages residents to approach them for support and to give a lending hand whenever possible.
"If our education system is weak, we need to make it strong," said Young. "If our housing is weak, we need to make it strong. If our job market is weak, let's make it strong."
Community Engagement – Block Party Events
3-17-18 Community Block Party   Arden Park                 2pm – 5pm
6-23-18 Community Block Party    La Placita Park            2pm – 5pm
9-22-18 Community Block Party    Anne Shirrells Park      2pm – 5pm