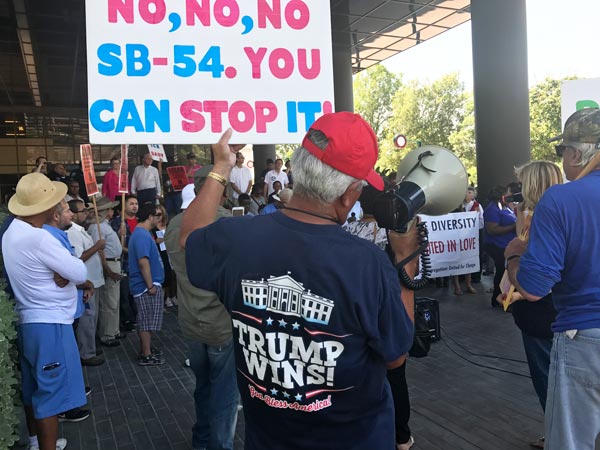 Once again, the Eye of Trump has swung round to face my hometown, San Bernardino.
We had previously been consumed by its sulfurous orange glow following the tragic events of December 2, 2015, when we became mere trophies in our president's ever-expanding cabinet of terrorist curiosities, shelved next to the 9/11 attacks and the grievously underreported "Bowling Green Massacre." Our city's name was used as cheap cud for Trump to chew on whenever he needed to bolster his Islamophobic rhetoric, and was most recently regurgitated to justify his disastrous travel ban.

As lifelong residents of a city that has struggled to control the narrative surrounding its economic travails, many of us were disappointed that our president would focus on appropriating San Bernardino to fulfill his perversely xenophobic fantasies, instead of enacting impactful legislation aimed at uplifting and protecting cities like ours. But in an even more troubling turn of events, last Thursday Attorney General Jeff Sessions sent a letter to San Bernardino and three other cities in which he threatened to cut off federal crime prevention aid unless they helped jail suspected illegal immigrants.
Just for a moment, set aside the fact that the City of San Bernardino Police Department does not operate a single jail facility, meaning that we would be unable to comply with Sessions' directive even if we wanted to. Set aside the fact that San Bernardino does not even consider itself to be a sanctuary city. Set aside the fact that San Bernardino is home to a large immigrant community that lives under fear of being unjustly excised by this administration, and that this threat does nothing to diminish that fear.
This move, perhaps more than any other, illustrates just how far Trump and his cronies are willing to go to enforce their hardline agenda—even if it comes at the expense of individual lives.
Last year, San Bernardino experienced 62 homicides—our deadliest year in two decades. Among them was 9-year-old Travon Williams, who had been buying candy at a liquor store with his father when they were both shot and killed. By all accounts, they were innocent bystanders to a gang-related shooting who were simply in the wrong place at the wrong time.
These needless deaths, and countless others like them, are why programs like the National Public Safety Partnership, a Department of Justice initiative that aims to help hard-pressed cities combat violent crime, serve as valuable reassurances to communities like ours that the federal government has our back when it comes to stemming the tide of violence. But Trump's recent power play proves that his purported solidarity with beleaguered communities is purely a political and conditional one.
When the Obama administration invited San Bernardino to participate in the Public Safety Partnership (known back then as the Violence Reduction Network), it seemed to be conceding that above-average homicide rates should not be the norm, that each individual life lost to mindless violence mattered. But in ripping the program away and dangling it in front of our faces, the Trump administration appears to have to struck a much different tone. Innocent lives are only worth saving when so-called sanctuary cities are caving.
Like a mafia boss lurking on the doorstep of a disfavored capo's house, Trump thinks he can get what he wants by holding innocent lives hostage. "Get your payments in on time, or maybe your family won't be protected any more, if you catch my drift." It's a ploy that might serve him well in the future—after all, what city wants to fight crime by itself when it has a potential partner in the federal government?
But there's a reason this is a ploy most politicians tend to avoid. This goes beyond the realm of hardscrabble, bare-knuckled politics. Have a problem with cities like San Bernardino? Go the normal route. Take us to court. Hell, go ahead and rail against us on Twitter—Senators Murkowski and McCain make for good company. But Trump has decided to take things one step further by playing politics with violent crime prevention, an area in which empathy, not politics, should ever prevail.
And yet the language in Sessions' letter only makes this entire endeavor more morally repugnant than it already is. "[E]ncouraging every jurisdiction in this country to cooperate with federal law enforcement…will ultimately make all of us safer—especially law enforcement on our streets," Sessions wrote. It's shocking that he seems to think that denying us access to federal crime-fighting resources would make anyone in San Bernardino safer, especially considering that our immigrant community is not the root cause of our gun violence problem. And yet that is a motivation he is careful to maintain throughout, as if he's doing us all a great favor. This casually brazen dishonesty is an insult to our city's ongoing fight to protect its civilians, with or without government help.
The Eye of Trump has swung round to face San Bernardino—and we see it for the bloodshot, engorged, malevolent monstrosity it's always been.