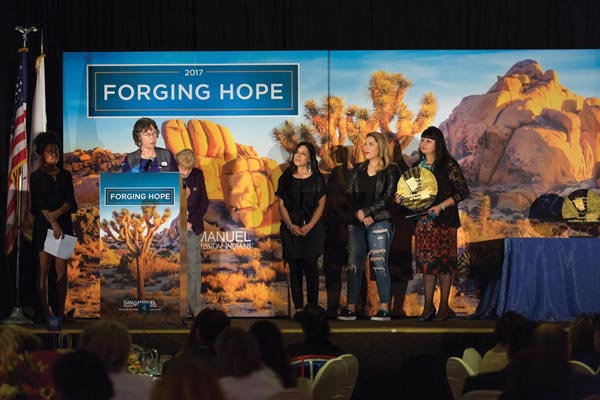 Four nonprofits were honored by the San Manuel Band of Mission Indians for their exemplary demonstrations to act for the good of others.
The Assistance League of Redlands, Goodwill Southern California, Khap'o Owingeh (Santa Clara Pueblo) and Bioneers were the recipients of the "Yawa' Awards" during the ninth annual "Forging Hope" breakfast Tuesday at the National Orange Show Events Center. The organizations were recognized for their work in one of four philanthropic program areas — education, health, economic and community development and special projects — and for demonstrating the spirit of Yawa', to "act on one's beliefs," an attitude that comes from the heart.

"(San Manuel) has always been a great supporter of ours," said Connie Jury, the Assistance League's fourth vice president of resource development. "We're very proud of this award."
In addition to the honor, each group also received a monetary award from the San Manuel Band of Mission Indians in support of programs and resources.
For the Assistance League, the funding is substantial to help expand programs like the group's Dental Center, Jury said, which includes dental care and education for more than 2,000 adults and children in the area.
"This award means so much to us and we're thrilled," said Jury.