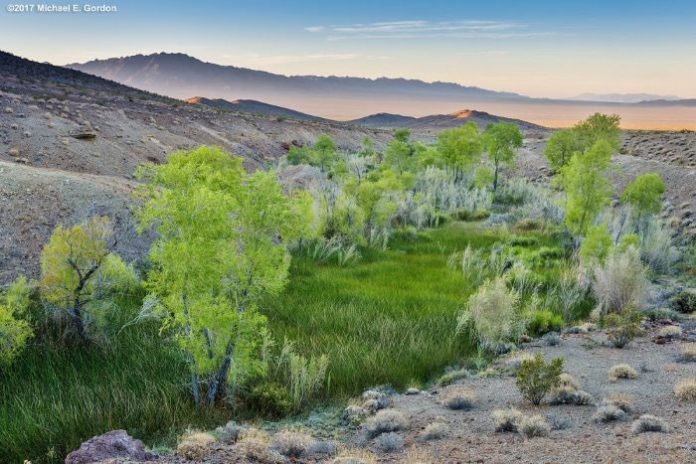 The next meeting of the San Gorgonio Chapter, Sierra Club will be Tuesday, December 4, 7:30 p.m. at the San Bernardino County Museum, 2014 Orange Tree Lane, Redlands. John Monsen and Chris Clark will present a program titled, "Saving the Mojave Desert from a Corporate Water Grab".
A private corporation, Cadiz Inc., plans to drain water from under public lands in the Mojave Desert near Joshua Tree National Park and sell it to the highest bidder. New scientific research has confirmed that this dangerous project promises to dry up critical springs that desert life depends on. One such area is Bonanza Springs. According to the Bureau of Land Management (BLM), it is "One of the few natural watering areas for wildlife within the Mojave Desert." The BLM has designated Bonanza Springs as a "Watchable Wildlife Habitat."

Chris Clarke is the California Desert Program Manager for the National Parks Conservation Association (NPCA). His presentation will discuss the majesty of the Mojave Desert and as its fragility as well as the history of Cadiz and the efforts to stop the project. He will also fill us in on the latest scientific research. John Monsen, NPCA consultant and long-time Sierra Club organizer, will provide an update on efforts to stop the project, covering the prospects for state legislation in 2019 and how we can educate our local water districts about the risk of signing up for Cadiz water and the damage the Cadiz water grab will cause.
John is president of JFM Consulting, a company dedicated to protecting our public lands for all to appreciate. John was the recipient of the Outstanding Achievement Award from the Sierra Club's Angeles Chapter in 2017 for his work in helping to establish San Gabriel Mountains National Monument (SGMNM).
Parking and admission are free but donations are accepted for room rental.