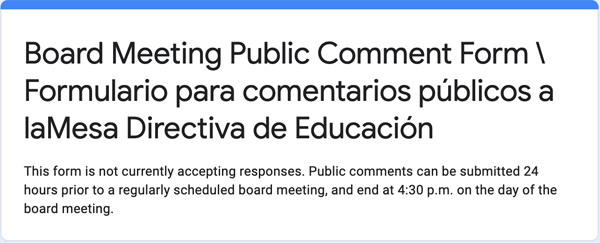 Starting with its Tuesday, January 19 meeting, the San Bernardino City Unified School District Board of Education encourages community participation through a new system featuring live, public comment via video conferencing during designated times.
This new system allows stakeholders to address the Board live during the public comment portion of the meeting. The previous method of submitting written comments by email before the meeting has been discontinued. In addition, the District has selected Zoom video conferencing as the new platform for Board of Education meetings.

The seven-member governing body has been meeting remotely since March 2020 due to the COVID-19 pandemic and Gov. Gavin Newsom's stay-at-home order. While the public could watch the meetings live and submit written comments online, they were unable to comment in real-time. Written public comments were accepted via email and then publicly read during the meeting.
Giving stakeholders a way to speak directly and in real-time to the Board was a priority, said Interim Superintendent Dr. Harold J. Vollkommer.
"Public stakeholder participation is important to our Board of Education and our entire school district," Vollkommer said. "Although we look forward to eventually returning to our in-person meetings, for now, we are providing a safe alternative by encouraging live, virtual participation, and engagement."
As part of this new process, speakers wishing to give live, public comments are asked to register in advance by providing basic information online at www.sbcusd.com/publiccomment by 4:30 p.m. on the day of the Board meeting. The information is needed to admit participants into the meeting, and the Zoom name or phone number must match. The form will be available for 24 hours before the meeting.
Once registered, Zoom meeting details will be emailed to the speaker, including further instructions for calling in. Speakers can join the meeting at any time, but are asked to join the meeting at least one agenda item prior to the item on which they wish to speak or prior to the Public Comment item, whichever comes first. Public comment is still limited to 5 minutes per person or 30 minutes if a group is speaking on a single topic.
Additionally, speakers should have their camera disabled and have their microphone muted until they are prompted to speak by the Board secretary. Participants are reminded that any inappropriate language or images will forfeit their registration, and they will be removed from the meeting.
Participants who wish to comment in Spanish may do so and are asked to speak slowly and clearly to give interpreters time to capture the message accurately and completely.
The Board of Education meets regularly on the first and third Tuesday of the month. Trustees develop the policies by which the educational programs and other business of the District are carried out. Virtual meetings are open to the public, except for closed sessions, which the Board is permitted to hold to discuss confidential matters relating to employees, students, or litigation. Actions taken in closed session are reported out at the end of the meeting.
Meeting agendas are available at sbcusd.com/school_board/recentagenda. Stakeholders may watch a livestream of Board of Education meetings at youtube.com/San/BdoCitySchools.
Download the free Zoom client for laptop or smartphone at https://zoom.us/download#client_4meeting.