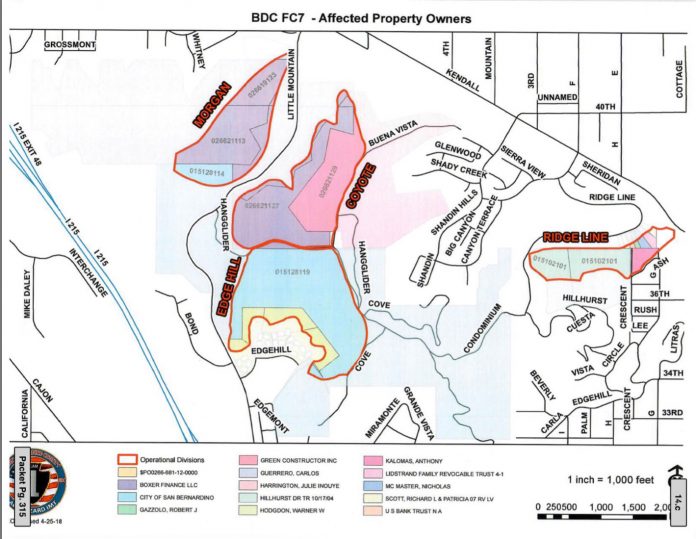 On May 15, San Bernardino City Council gave consent to San Bernardino County Fire to practice live burns alongside Little Mountain Drive.
"It is recommended that the mayor and city council of the City of San Bernardino adopt Resolution No. 2019-76, authorizing the San Bernardino County Fire Protection District to conduct a live fire training exercise and prescribed burn on city-owned property located along North Little Mountain Drive," said Teri Ledoux, San Bernardino acting city manager.

The live fire training was originally scheduled to take place on May 28th, 29th, 30th and 31st at 9 a.m., but due to inclement weather it has been postponed to the third week of June.
"This training exercise will enable the fire protection district to provide firefighters with critical wild-land fire management skills in addition to helping to mitigate the potential for an uncontrolled wildfire in this area by burning grasses that have grown during the rainy season, therefor creating defensible spaces around homes," said Ledoux.
According to the council agenda, the current conditions in the area including vegetation growth, climate and topography combine to make the potential for another local-area wild-land fire extremely high.
"The prescribed live fire training will provide for the safety of San Bernardino residents by mitigating fire hazards and protecting homes surrounding North Little Mountain Drive while fostering close working relationships," said Chris Gorman, San Bernardino County Fire Battalion Chief.
"The streets in San Bernardino surrounding the live training include Little Mountain Drive, east to E. St., south of Kendall and north of Marshall. We are also asking the public to use caution and slow down when driving through the area," said Kathleen Opliger, San Bernardino County Fire incident commander.
A portion of the property within the prescribed burn training area is owned by the City of San Bernardino, the other area being a San Bernardino County pocket.
For more information, visit https://www.sbcfire.org.