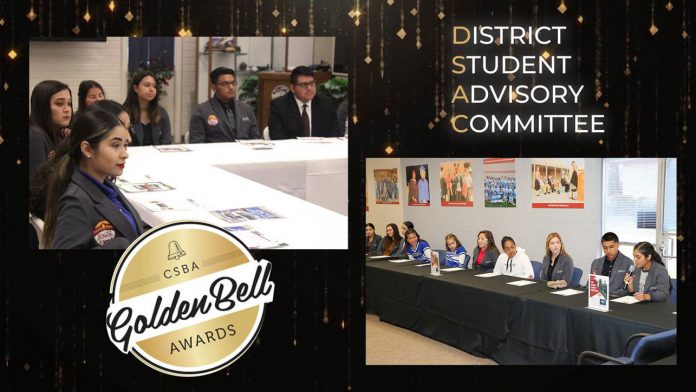 Rialto Unified School District's District Student Advisory Committee (DSAC), led by RUSD Communications/Media Services, has been selected as one of 51 recipients for the State's leading educational honor, the Golden Bell Award.
The 39th Annual Golden Bell Awards is sponsored by the California School Boards Association (CSBA) to recognize outstanding public school programs for innovation, sustainability and best practices that facilitate positive student outcomes. Rialto Unified School District's Communications/Media Services Office, which has overseen DSAC, for a decade, will accept the award at a recognition reception and ceremony on Thursday, November 29, from 5:00 p.m. to 7:00 p.m. at CSBA's Annual Education Conference and Trade Show in San Francisco at the San Francisco Marriott Marquis.

DSAC began 30 years ago by the late RUSD educator, Ms. Georgia Floyd Morris, who felt students should have a voice at the District level, be able to articulate and share what is occurring on their campuses at the RUSD Board of Education school board meetings, and also be educated about the business and history of their District's Public Education functions.
"Ms. Morris was a true innovator and knew then what we still emphasize today; education is best served when it remains student-centered," stated RUSD Superintendent, Dr. Cuauhtémoc Avila. "We are pleased with our Communications/Media Services team, which has grown this program within the framework of the District's Strategic Plan. DSAC gives our students global opportunities to build hands-on leadership skills. The Board of Education and I will be in attendance at CSBA with students, representatives from our ASB, and Communications/Media Services team to accept the well-earned honor."
A 17-member judging panel made up of experts from school districts and county offices of education reviewed the written entries and made the initial recommendations for the awards. On-site validators assessed the programs in action. This year's awards are presented to school districts and county offices of education helping students achieve through after-school programs, mentoring, instructional interventions, use of data and other related innovations.
"From a multitude of worthy statewide nominations for the Golden Bell Award, we are delighted that DSAC was selected," replied Syeda Jafri, Communication Media Services Agent and DSAC coordinator. "This program is a unique student- focused platform that develops middle and high school scholars' exposure to real world self-growth. For a decade these 24 student-leaders come in, each year, once a month, at the Central Office, with a desire to experience hands-on leadership roles with influential leaders in the community, and it is our responsibility to provide that opportunity through DSAC."
CSBA CEO & Executive Director Vernon M. Billy, stated, "The Golden Bell recipients exemplify the spirit of innovation and excellence for which all of California's public schools strive. The Golden Bell Awards reflect the depth and breadth of outstanding education offerings in our state, and demonstrate the tenacity, vision and dedication of school leaders across California."