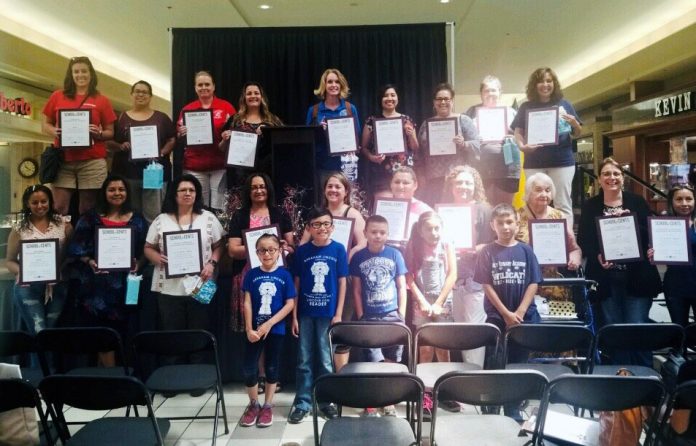 For the past 20 years Inland Center Mall has helped 20 local elementary schools each year in their School Cents program which runs from September through May and rewards schools for receipts and participation in mall sponsored community events.  The mall has, in total, given over $226,750 to local schools. During an awards ceremony on June 12 Inland Center handed out over $11,350 to these 20 schools which include:
The First Place Winner St. Adelaide Academy from Highland received $2,000, Second Place Holy Rosary Academy, Third Place Anton Elementary, Fourth Place Grand Terrace Elementary and Fifth Place Abraham Lincoln in Colton…Riley College Prep, Terrace View Elementary, Wilson Elementary, Henry Elementary, St. Catherine of Siena, Norton Science & Language Academy, Our Lady of the Assumption, Grant Elementary, Birney Elementary, Gateway Education Center, Mt. Vernon Elementary, Crafton Elementary, Hillside Elementary, Manuel A. Salinas Creative Arts Elementary and Bradley Elementary. All schools received monies based on points to buy school supplies.

These schools also participated in mall sponsored events such as Inland Center's "We're Sweet On Soldiers" which sends Valentines and supplies to soldiers and veterans. This year, schools handmade 13,630 Valentines and donated 16,884 supplies to Inland Center in partnership with Help Heal Veterans. This program which was created by Inland Center has been going on for 11 years and in total more than 156,281 Valentines and 111,941 supplies have been donated to soldiers. All twenty schools participated and certificates of appreciation were distributed by Larry Keen with Help Heal Veterans who distributes the cards and supplies. "We celebrate twenty years of School Cents at Inland Center Mall which has helped hundreds of local elementary schools receive much needed supplies while at the same time benefitting the community. We've been very privileged to work with such outstanding elementary schools that truly help our children grow. We also want to thank not only the schools but all the school coordinators at each school and Scott Wetter, Store Manager of Macy's San Bernardino for sponsoring the program," said Terri Relf, Senior Marketing Manager, Inland Center Mall.