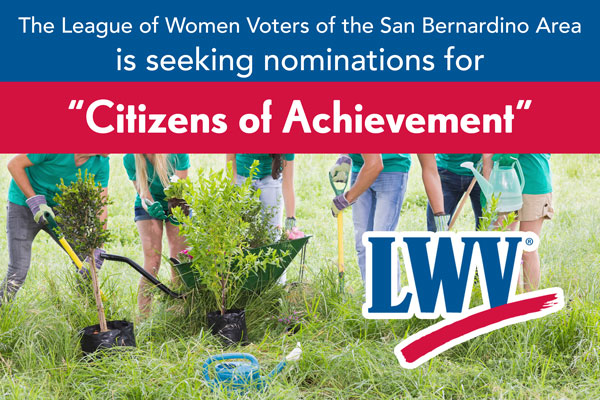 Since 1975, the League of Women Voters of the San Bernardino Area has honored more than 750 individuals and more recently, groups of citizens, who have enhanced the quality of life in their communities.
Once again, the League is reaching out to the community seeking nominations of those who are true "Citizens of Achievement." The League will honor those chosen at an Award Reception on Sunday, May 20, 2018 from 2:00-4:00 PM at the lovely East Valley Water District Headquarters located at 31111 Greenspot Road in Highland, CA.

Our focus is on individuals and groups of volunteers in the greater San Bernardino area, from Fontana to Yucaipa and the Riverside/San Bernardino County line to the mountain communities, who have made a difference in the lives of others whether in the neighborhoods they live, the institutions that serve us, or the environment we cherish. We also want to recognize those who make the community a better place to live through their involvement in various other civic and cultural activities.
A nomination form is enclosed but we also have added online submission at https://my.lwv.org/california/san-bernardino-area/citizens-achievement-nomination-form. Please provide as much information as you can to assist a committee comprised of League past presidents in selecting the recipients. The deadline for nominations is March 31. Those chosen as "Citizens of Achievement" will be notified and invited to the Award Reception with their friends and families who will want to share this special day.
If you know of others who may wish to nominate a "Citizens of Achievement," please reach out to them. Should you have any questions, please call (909) 772-0843 or (909) 793-6229 or email LeagueofWomenVoters.SB@gmail.com.