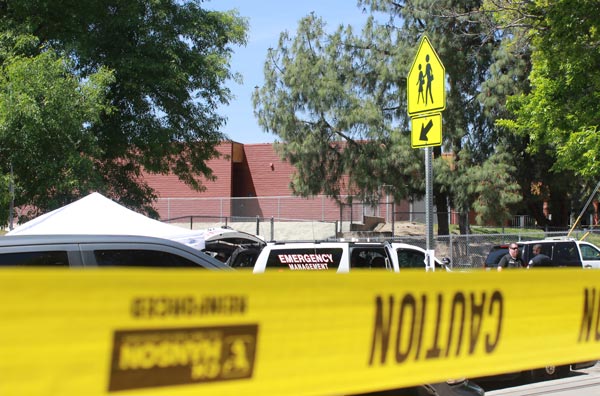 UPDATE: Eight year old Jonathan Martinez has died, according to SBPD Chief Jarrod Burguan. Officials also released the name of the teacher and the suspect.
---
A school shooting in San Bernardino has left two adults dead and two students critically wounded, according to local law enforcement officials.

The incident, ruled as a murder-suicide by San Bernardino Police Chief Jarrod Burguan, took place around 10:30 a.m inside a classroom at Northpark Elementary School on the city's north end.
"There was a massive response to the incident, just as we saw on December 2," said SBPD Lt. Mike Madden, who serves as the department's Public Information Officer. "I assure that we're doing everything we possibly can to conduct a thorough investigation."
Law enforcement officials say the gunman, 53-year-old Cedric Anderson entered a classroom–shooting and killing his estranged wife teacher Karen Smith before executing himself. Officials believe the two children wounded were not purposefully targeted. The gunman had reportedly signed in at the front office, officials said.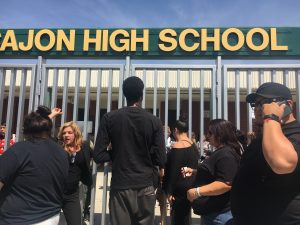 "This is an absolutely tragic event," said San Bernardino City Unified School District Superintendent Dale Marsden.
Marsden said Northpark Elementary will be closed on Tuesday and Wednesday until further notice.
Parents stood anxiously on the corners of 'H' Street and Northpark Boulevard near the school to receive news on their children's condition. They were re-directed to Cajon High School and told to provide identification.
"We're asking all parents to go to Cajon High School, and that is where they will be reunited with their students. If they go anywhere else, it will be very difficult to release their child properly," said Marsden during a press conference. "Their patience with the process will be helpful."
Denise Dominguez, whose grandson is a second grader at Northpark, said she hurried to the school once she heard about the shooting.
"I work at San Gorgonio High School and received an email," Dominguez said fighting back tears. "I hauled a** over here. This is very sad and horrible. This shouldn't be happening. Not in this day and age."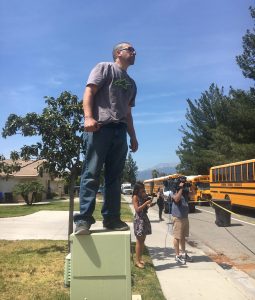 Luis Roman, who has two children attending Northpark, kept observing school busses passing by–hoping his children were on board.
"I don't see my boys," he shouted. "I don't know what's going on."
Yvette Thompson, a custodian at Northpark Elementary, said she's devastated by the shooting.
"It's a tragedy," Thompson said. "We need to stop the violence. There are other ways to solve our problems. Many families will be affected by this man's decision."