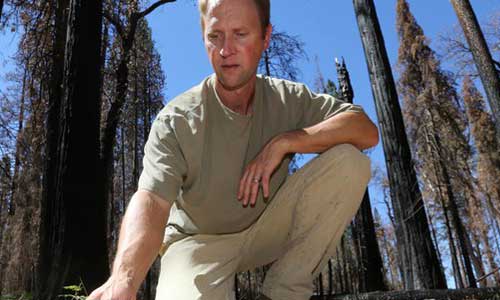 The next meeting of the San Gorgonio Chapter, Sierra Club will be Tuesday, February 5, 2019, 7:30 p.m. at the San Bernardino County Museum, 2014 Orange Tree Lane, Redlands. Chad Hanson will present a program titled, "Creating Fire-Safe Communities".
Research ecologist Chad Hanson will discuss how we can create far more fire-safe communities. He will also discuss why the current fire management focus on backcountry fire suppression and commercial logging is based on myths that are not only harming habitat in wildlands but are also dangerously diverting resources and attention away from protecting communities from wildland fire.

Last spring Chad was elected to a three-year term on the Sierra Club national Board of Directors, receiving the highest number of votes among the five who were elected. He has a Ph.D. in ecology from UC Davis and is a research ecologist with the John Muir Project based in Big Bear City. He previously served two terms on the Sierra Club Board from 1997 to 2003.
Chad presented The Ecological Importance of Mixed Intensity Wildfires at the August 2018 chapter meeting.
Parking and admission are free but donations are accepted for room rental.