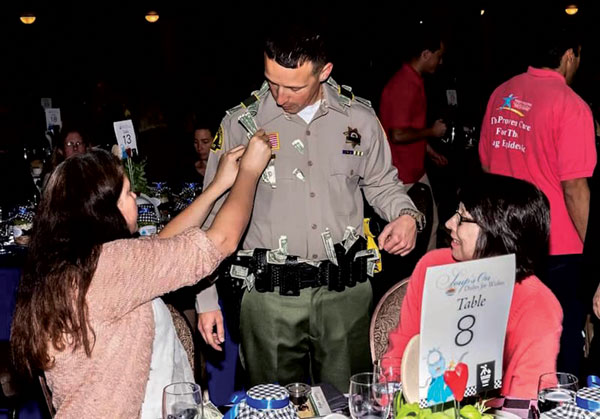 First responders offered a hand at Loma Linda Children's Hospital Nov. 17 but it wasn't the usual respond to service.
Members of the San Bernardino County Sheriff's Department along with Colton, Redlands and Loma Linda fire departments served up delectable bites prepared by area chefs, all while working the crowd for tips to benefit the hospital during the 17th annual Dishes for Wishes cooking demonstration, shopping extravaganza and gourmet dinner at the National Orange Show.

Hosted by Big Hearts for Little Hearts Loma Linda Guild, the annual fundraiser brings out hundreds to raise funds in support of enhancing medical care for children at the hospital. Sponsorships and donations for the 2016 Dishes for Wishes raised more than $50,000, according to LLUCH.
This year's event, 'Soup's On,' paired up rich-tasting soups and side dishes from local restaurants including Watercress Vietnamese Bistro; Loma Linda University Catering; Dhat Island Caribbean Creole Cuisine; Romano's Family Italian Restaurant; and treats by Sherry Nolfe, while Martha Green of The Eating Room and Dough L'ectibles in downtown Redlands was master of ceremonies.
Adrian Lavery, associate professor of pediatrics at LLUCH, served as the event's guest speaker and shared the story of how twins Matthew and Callia Castleberry, patients at LLUCH, were provided care after born prematurely in 2014.
Matthew was diagnosed with a potentially fatal congenital disorder known as posterior urethral values (PUVs) while in the womb. Before he was born, he underwent surgery to have a catheter placed to allow his bladder to drain. Doctors then discovered the absence of amniotic fluid needed for his lung development. Doctors were able to create slits in both Matthew and Callia's amniotic sacs, allowing Callia to share her fluid with her brother.
Matthew was given only a 3 percent chance of survival, but with the success of the surgery, his sister saved his life.
"Our family is so grateful for the Loma Linda Guild and all of the nurses, staffs, doctors for all they did for our family," said Angelina Castleberry, Matthew and Callia's mother.
The Nov. 17 event is one of several fundraisers hosted by the Guild in support of the hospital. Other events include reading festivals in spring and autumn, a birthday party for hospital mascot Luke the Lion in summer, a gingerbread village in the hospital lobby and other holiday events during the Christmas season.
To learn more about the Guild and upcoming events, visit http://www.lluch.org/guilds.