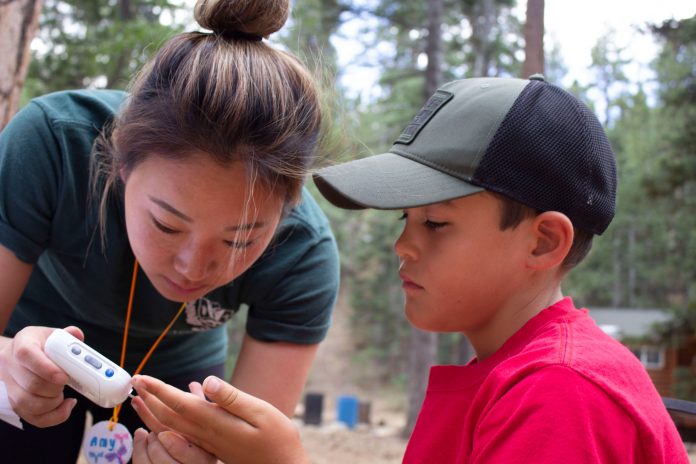 This summer — and every summer since 2013 — students from Loma Linda University School of Pharmacy dedicated several days of their summer break volunteering at Camp Conrad Chinnock.
A comprehensive educational program located in Angelus Oaks, California, Camp Conrad Chinnock provides training to kids ages 7 to 12 with Type 1 diabetes and their families by teaching them how to manage their medication, eat properly and integrate physical activity into their lifestyle.

Kaitlyn Phumirat, a third year student at the School of Pharmacy, was one of 22 students volunteering at Camp Chinnock this summer. She said her experience was eye-opening.
"It was impressive to watch these kids work their pump devices, change their pump site injections, test their blood glucose, and calculate how much insulin they need to cover their carbohydrates intake really well at such a young age," said Phumirat, who would have to wake up with kids in the middle of the night to check their glucose and tend to any specific needs the kids may have.
Diabetic children aren't typically able to experience summer camp because diabetes has to be so closely monitored. "Diabetes management is tough," Phumirat said. "While at camp I realized how much diabetes affects one's sleep cycle, physical activity, and so much of one's everyday life."
Campers sleep in cabins, make new friends, learn archery, fish, swim, hike, and take turns cleaning the mess hall after meals.
The camp was started in 1957 by Robert Chinnock, MD, a Loma Linda University Health pediatrician. His son, Richard Chinnock, MD and grandson Timothy Chinnock, MD, both pediatricians, continue to support and participate in the camp today.
The camp is a safe haven to kids with diabetes, says Nancy Kawahara, PharmD, associate dean for professional affairs and community engagement at Loma Linda School of Pharmacy.
In 2008, Kawahara's son was diagnosed with Type 1 diabetes — he was 11. That year, his endocrinologist encouraged him to attend the camp, which he did every summer through high school.
"Camp Conrad Chinnock was a place where everyone understood him, and he cherished the time he had there," Kawahara said of her son's experience.
The summer of her son's junior year of high school, Kawahara dropped her son off at the teen camp while she, along with four students from the School of Pharmacy, spent six days at a session with younger children. Kawahara and the students participated in various recreational activities and educational sessions to help kids with insulin-dependent diabetes. One of those students was Christopher (CJ) Jacobson, PharmD, who is now on faculty at Loma Linda University.
"That experience led to a robust pharmacy program," said Kawahara, who, along Jacobson now take around 20 pharmacy students to camp every year. "It has been a blessing to the education of pharmacy students because they gain first-hand experience with what it is really like to live with a chronic disease," she said.
Since that initial summer at camp in 2013, Jacobson has spent every summer there volunteering his time. Of this year specifically he said he enjoyed watching how integrated the pharmacy students were becoming in camp life.
"They worked on fostering relationships with the campers," Jacobson said. "It was warming to see not only how the pharmacy students embraced camp, but how camp embraced the them."
Several students from Loma Linda University School of Medicine also volunteer at the camp each year.
"This camp experience definitely pushed me beyond my comfort zone," said Phumirat, the pharmacy student, who feared she might hurt a camper while poking them or giving them an insulin injection. "But watching these fearless kids do their own shots and glucose tests helped me."
Phumirat said her positive camp experience has helped her to understand diabetes and has helped her in her journey to be a pharmacist with compassion.