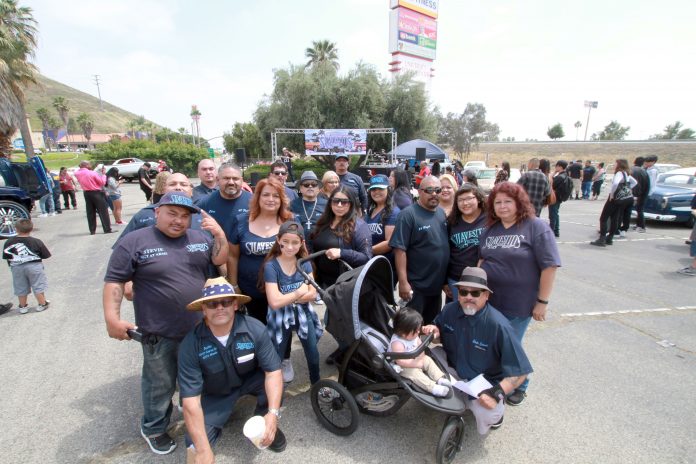 On Sunday, June 2 the Suavesitos Car Club held its 5th Annual Memorial Day Car Show and Concert held at the San Bernardino Scottish Rite. Hundreds of spectators showed up despite canceling the week before due to threat of rain. Several vendors, singers, food, raffle, cars, and car contests were on the agenda for the day.
The Suavesitos Car Club was established in 1977 and has achieved a 501c3 nonprofit status. Their website says that they are dedicated to serving the community and its members. Suavesitos has held Cinco De Mayo events for several years at La Plaza Park in San Bernardino, they have helped with the Veterans Day Parades, they have held several Christmas car shows, they host Trunk-or-Treat Halloween activities for the kids, and they have assisted in clean-up days prior to the San Bernardino Area Chamber of Commerce Route 66 events and whenever the Chamber asked. Suavesitos Car Club President Chris Moreno says that it's to get the community out and enjoy the festivities.

Artie Rodriguez and Karlo Zamudio were judges for the car contest. They are standing next to a 1963 aqua blue Chevy Impala Convertible (Rag Top) when they were asked about the entry categories. Artie said that entries could be made into various categories such as hotrod, custom and decade of the car (20's, 30's, 40's, etc.). There is a category for motorcycle, bicycle, and peddle car as well.
The Suavesitos car show is truly a family event. Lisa Garcia and Michell Chavez are both grandmothers that live down the street. They came to the car show with their grandkids Clara, Alayah, and Baby Jayce Mendoza. The Leal Family (Jose, Carolina, Daniel, and Stephanie) from Riverside were in the area when they noticed the car show and decided to check it out. Anita from Kreationz Car and Bike Club said that they started off as a Car Club, and added bicycles to their club since most of the events were family oriented and there were lots of kids on bikes.
Pete Flores sits behind the wheel of his 1929 gold Ford Roadster. Flores is a member of the "Shifters," a car club started in 1959 from San Bernardino High School. Albert Perez was taking a photograph of a 37 Chevy, like one that he owns. Studying the modifications, improvements, and the customizations made to this car, Albert appreciated all the hard work the owner put into it.