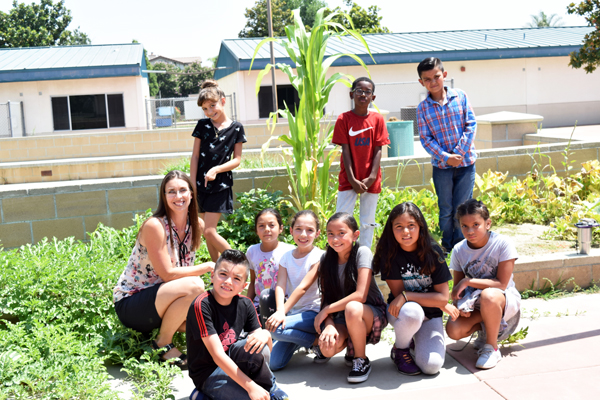 Third-grade students in Jessica Betcher's class at Sycamore Hills Elementary School spent last school year planning and planting a garden as part of a Project Based Learning endeavor. Now they are enjoying the fruits of their labors.
Watermelon and pumpkin vines meander across a sunny courtyard, ripe red tomatoes peek out from under the leaves of a robust plant and a few strawberries, hydrangeas and other plants complete the scene. Tall stalks of corn tower above them all.

Some of the produce already has been harvested and while more is still ripening. Ms. Betcher's students – now fourth graders — have sampled tomatoes and other fruits and vegetables. They are excited for sweet watermelon and pumpkins still to come.
"What I'd like to do with the pumpkins is make pumpkin pie," said fourth grader Allison Godinez who worked on the project last year.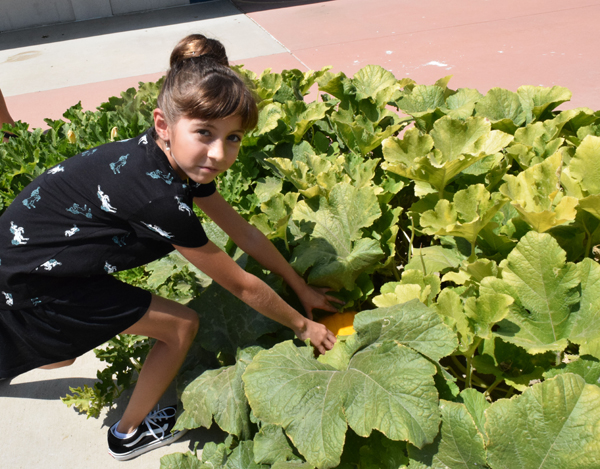 Student Chloe Vargas recently shared a carrot from the garden with her Guinea pig Oreo Sprinkles.
"She ate the whole carrot!" Chloe said.
Other students have enjoyed salsa and marinara sauce made with tomatoes from the garden.
The garden is more than just an opportunity for students to experience the fun and reward of growing fruits and vegetables, noted Ms. Betcher. It also involved a lot of research, math, science, coding and more.
The garden project is part of a district-wide charge to promote Project Based Learning – which encourages students to tackle real-world problems or challenges, then strive to find answers in dynamic hands-on learning projects.
Student Karen Campos noted that planning the garden "took a couple of months."
Students interviewed a doctor to find out what kinds of plants would yield healthy fruits and vegetables that their peers would like, would have high nutritional value, and would have little chance of harming others (no plants with thorns, for example). They also wanted to grow crops that would be less likely to cause allergic reactions.
Students also calculated how much space would support their plants and drew out their plans on graph paper. Finally, they had to present their proposals to Principal Lisa Mannes for approval. After that, they ordered seeds and planted their garden. Maintenance and Operations team member Andy Cuellar helped with irrigation and soil for the students to use.
"This has been a hands-on learning experience for our students in which they engage in their learning in a meaningful and memorable way," stated Principal Mannes. "Our students worked hard on this project through research with industry experts, collaboration with their peers, creating brochures and diagrams of the future garden and presenting their proposal to me."
The garden project yielded far more than a strong academic lesson, Ms. Betcher said. It also helped students to see that they have a voice.
"They got to see they have influence and they have the power to change things," she said. "When they approach it correctly, adults will listen. It's important for kids to know they can make a difference."