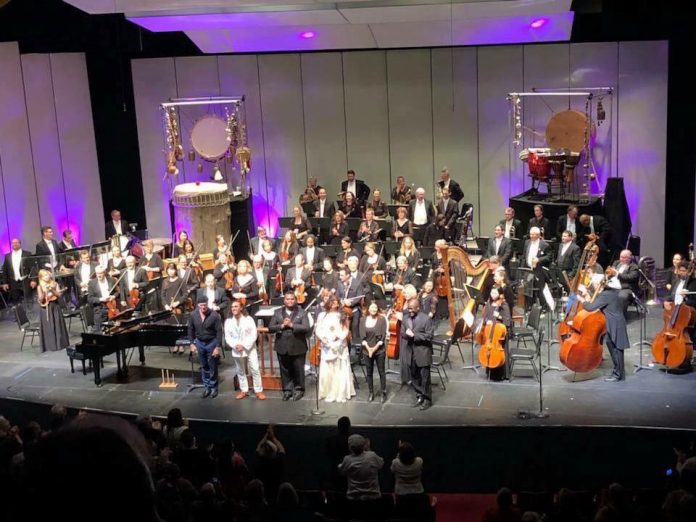 San Bernardino Symphony Orchestra has partnered with the Inland Valley Repertory Theatre Company and the Don Brinegar Singers to perform Bernstein's Candide on the iconic American composer's centennial Saturday, August 25 at 7:30 p.m. at the California Theatre of the Performing Arts.
Based on Voltaire's satirical comedy, optimistic Candide and his fiancé Cunegonde have been taught that "everything's for the best in this best of all possible worlds," but their voyage through life quickly suggests otherwise. The comic operetta features an impressive score, including the famous aria "Glitter and Be Gay" and the soaring finale "Make our Garden Grow." Maestro Don Brinegar will conduct the performance.

"The San Bernardino Symphony is thrilled to join with orchestras throughout the country in celebrating Leonard Bernstein," said Symphony Board President Dean McVay. "This concert is an opportunity for our community to experience a production usually reserved for New York and Los Angeles stages at an historic venue close to home."
In fact, the date of the Bernstein centennial and corresponding performance represents a significant programming stretch for the region's longest running professional symphony orchestra.
First, an August season opener is a first for San Bernardino, which usually welcomes its season subscribers in the Fall. Second, the combination of a theatrical production with live music together on the same stage is something never done before by the Orchestra.
But the Orchestra is taking a cue from its namesake city to transform public perception about the Inland Empire through increasingly delightful and attractive artistic offerings. Candide marks the Orchestra's historic 90th season; a season in which the Orchestra will audition five new conductor candidates, introduce two world premier pieces of music, welcome several well-known stars, and generally seek to move and inspire audiences from throughout the state.
"Last year, our season ticket holders came from 47 discrete California zip codes," said Symphony executive director Dr. Anne Viricel. "This year, we're already seeing numerous out-of-state purchasers who have either moved away and want to come back for concerts or who have been inspired to travel here by sheer excitement about the season."
A Season to Remember
The Orchestra's robust forward-looking strategic plan resulted in an impressive 89th season and the momentum is growing as they begin their 90th year.
On October 27th, the Orchestra will premiere Emmy award-winning composer John Wineglass' "Voices of the West," a new commissioned work.
"This piece of music fulfills a long-held dream," said McVay. "We have hoped to be in the position to create something meaningful and important about the region for years and now, through the generosity of many civic-minded arts lovers, this dream is coming true."
The October concert will be performed under the baton of guest conductor Laura Jackson, and will also include music from Tchaikovsky, Rachmaninoff, and Respighi. A gala will be held at the California Theatre of the Performing Arts prior to the concert.
December 1, the Orchestra will present their annual Holiday Concert. Under the baton of guest conductor Dean Anderson, the Orchestra will premiere a new holiday work by Nilo Alcala, alongside music from Vaughan-Williams, Rimsky-Korsakov, Anderson, and Tchaikovsky in the first half of this festive concert. In the second half, they will welcome singer David Archuleta, to perform holiday favorites with the Orchestra
February 9, 2019, Orchestra audiences will enjoy A Night at the Pictures. Guest conductor Ming Luke will lead a family-friendly performance of music from Rossini, Mussorgsky, Strauss, and Mozart… all selected from beloved cartoons and movies.
March 16, 2019, the Orchestra will present An Evening with Melissa Manchester under the baton of our Maestra Sharon Lavery. The first half will be dedicated to the music of George Gershwin, including selections from Porgy and Bess, and pianist Bernadene Blaha will perform Gershwin's Rhapsody in Blue. In the second half, Grammy award-winning singer/actress Melissa Manchester will take the stage to perform her tribute to "The Fellas" and some of her own popular songs.
To complete the 90th season, on April 13, 2019, the Orchestra will present Celestial Sounds. Guest conductor David Cubek will lead a space-age evening of music including Holst's The Planets, Ravel's Sunrise, and Williams' Star Wars Suite.
Ticket Availability
Tickets are available by calling the San Bernardino Symphony Orchestra office at (909) 381-5388 or through their website: www.sanbernardinosymphony.org. Student and active military tickets are always $15; all other tickets are $30. $45. $55, and $65.