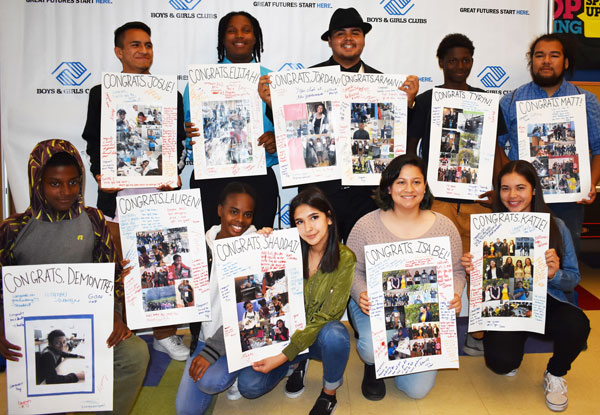 Boys & Girls Clubs of Greater Redlands-Riverside recently celebrated about a dozen young people who are graduating from Inland Empire high schools, and rising underclassmen.
The celebration was made possible through a $4,000 grant from the Taco Bell Foundation.

"This is one of the joys of our jobs," said Club CEO P.T. McEwen. "We spend years guiding, supporting and preparing these teens for their futures. And we celebrate with them when they reach these milestones in their lives, graduation being one of them. We appreciate the Taco Bell Foundation for supporting the Club's teen programs throughout in the Inland Empire."
The event included a cake, Taco Bell tacos and burritos, a step-and-repeat with fun graduation props, and personalized collages of each graduate that attendees signed.
Isabel Cruz, the Club's Youth of the Year, spoke.
"I know the Boys & Girls Club leads all of us here to greatness and success," said Isabel, who graduates June 7 from Citrus Valley High School in Redlands. "Go off and make this place a better place than how we left it."
Eddie Hernandez, director of teen services, thanked parents for letting the Club be part of their kids' lives, and told the advancing underclassmen and graduates that he was most proud of the friendships they'd built with each other across schools and cities.
All of the Club's graduates are graduating with a plan for the future, whether it be college or the military, Hernandez said.
"We're here for you – we're part of your lives and that doesn't stop when you graduate," he said.
Josue Vargas, who graduated May 30 from Lee V. Pollard High School in Corona, said the Club helped him get out of his comfort zone, and helped him with schoolwork.
"I had trouble in math – they helped me with homework," he said. "I passed the class."
Josue plans to attend community college and transfer to Cal State Fullerton to major in criminal justice. He wants to be a K-9 law enforcement officer and detective.
Armando Aguirre, who's graduating from Innovation High School in Moreno Valley, said the Club "helped me have fun without being in trouble and be a leader to little kids or kids my age."
Armando will attend community college and plans to transfer to the Art Institute to study music, culinary arts and construction.
The $4,000 grant to the Club is part of a partnership between the Taco Bell Foundation and Boys & Girls Clubs of America to support more young people through high school graduation and beyond.
"We founded the Taco Bell Foundation to invest in youth and to ignite their futures, starting with graduation.These youth are our customers, friends, families, employees and our future leaders," said Frank Tucker, Chief People Officer at Taco Bell and President of the Taco Bell Foundation. "Our partnership with Boys & Girls Clubs of America provides an opportunity to deliver on our commitment to ensure youth are empowered to graduate from high school and go onto pursue their dreams. We're proud of the effort put forth by every youth being honored at this wonderful event."