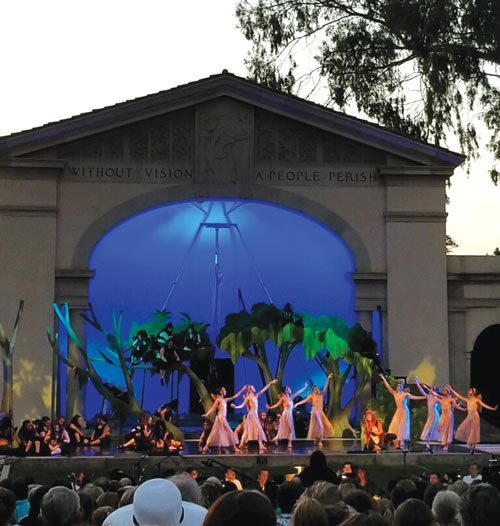 Swing on over to the Redlands Bowl this week for performances of Disney's "Tarzan" Thursday through Sunday at the Redlands Bowl.
Dozens filled seats at the Bowl Tuesday evening for a public dress rehearsal of the Disney-based musical adventure featuring music composed by Phil Collins, and more crowds are expected for the upcoming 8 p.m. shows, according to Bowl representatives.
Arrive early as reservations of seating space with blankets is not permitted, according to the Bowl. Seating can be reserved as long as space is not left unattended.
For younger audiences wanting to get up close with Tarzan cast members, learn songs and sing along to some of the stage hits, the Bowl's Children's Music Festival Workshops offer just that.
On July 29, children and their parents can swing on over to the Redlands Community Center for Terrific Tarzan! Children will have the opportunity to join Tarzan Director Paul Jacques and Tarzan cast members in learning about this year's musical, see costumes, and dance along to tunes.
The Children's Music Festival Workshops offer children a unique opportunity to interact with and learn from the professional artists, many of whom perform at the Bowl. Workshops are held from 3 to 3:45 p.m.Tuesdays at the Mission Gables Bowl House, 168 S. Eureka St. and from 10 to 10:45 a.m. Saturdays at the Redlands Community Center, 111 W. Lugonia Ave.
The workshops are free and open to children ages 4-12. Registration is not required, however an adult must accompany children.
The Redlands Bowl Performing Arts with support from the Associates of the Redlands Bowl manage the workshops.
---
The 2017 Redlands Bowl Summer Music Festival going on now through Aug. 25 includes:
Aug 1 Redlands Symphony OrchestraThe Brandenburg Concertos
Aug 4 Mystic India: A Bollywood Spectacular
Aug. 8 Riders In The Sky
Aug. 11 Opera Under the StarsFeaturing the San Bernardino Symphony Orchestra
Aug. 15 Pete Jacobs Wartime Radio Revue with a tribute to The Andrews Sisters Community Sing from 7:15-7:35 p.m. led by Ken Tuttle!
Aug. 18 State Street Ballet of Santa Barbara: Cinderella
Aug. 19 State Street Ballet of Santa Barbara: Cinderella
Aug. 22 Celtic Spring
Aug. 25 The Redlands SymphonyFrom Score to Screen with Fireworks