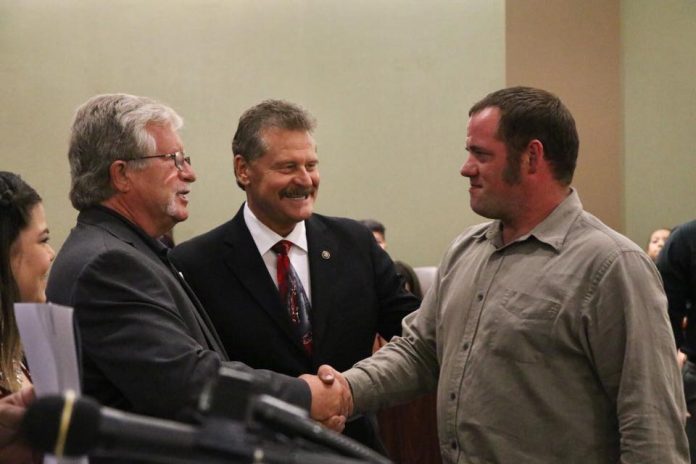 Many of the students at the Technical Employment Training institute (TET) in San Bernardino endured rigorous academic coursework and technical instruction to attain achievement and employment.
TET graduate Robert Ross admitted he didn't know what he was getting into at first, and struggled to keep up with TET's five-month curriculum that involved learning trigonometry and manufacturing items out of raw material.

Completing TET's 21-week Machine Trades Training program served as a redemption of sorts for Ross–now a certified manufacturer undergoing a third interview for a job. The 36-year-old Fontana resident said he served over a decade in prison and was having a difficult time finding employment.  
"It was definitely hard. I thought about quitting," Ross said. "But this wasn't only about me. I had to keep going for my family."
The nonprofit business and manufacturing institute, located at the San Bernardino International Airport, held a commencement ceremony on June 30 to acknowledge the accomplishments of a graduating class that is quickly obtaining employment opportunities.
Approximately 60 percent of TET graduates are working in the manufacturing and construction industries. Their road to success is attributed to the institution's framework of moving residents from dependency to self-sufficiency, explained engineer Dr. Bill Clarke.
"When you're able to take someone out of poverty, you know something's been done right," said Clarke, who founded Technical Employment Training with Kelly Space & Technology CEO and San Bernardino City Unified School District Board Member Mike Gallo. "For me, that's what it's all about."
Elizabeth Cholico learned about the program through the county's Transitional Assistance Department. She was able to receive assistance to attend training sessions at TET. The Beaumont resident is now working for Cal Craft Design International–a local based medical machinery manufacturer.
"I found out I could do things I thought I couldn't do," Cholico explained. "And now I'm employed. I recommend this place to anyone going through tough times."
Anthony Munoz, 27, of Highland is thankful that TET has provided him with "long term" career opportunities that will provide him and his family a sustainable future.
"I'm a renter now," Munoz said. "Hopefully my career will provide me with a steady place to raise my family. Going to TET definitely improved my quality of life."