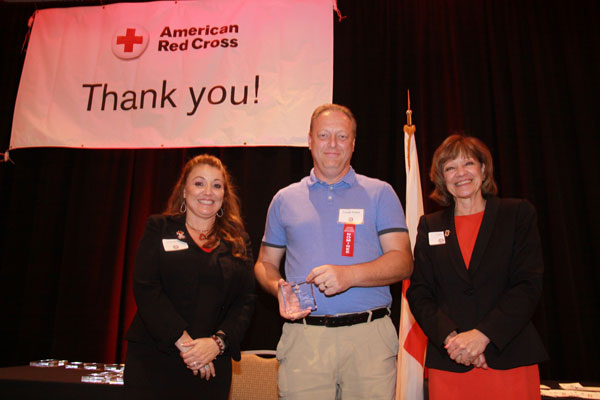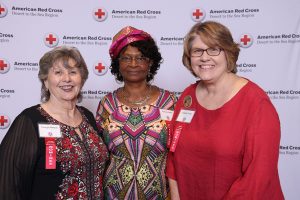 National Volunteer Appreciation week was celebrated on the third week of April. The San Bernardino Chapter of the American Red Cross held a recognition awards ceremony on April 28that the Ontario Double Tree Hotel.  About 350 volunteers and staff attended the event that was held for the "Desert to the Sea Region" of the American Red Cross, which includes San Bernardino, Riverside, and Orange counties.
Several San Bernardino volunteers were deployed to various disasters throughout the country including Puerto Rico, Arizona, Texas, and several fires in California, in addition to responding to the smaller, almost daily disasters that occur in our own communities.  Several "Disaster Action Teams" are scattered throughout the local community to provide assistance at a moment's notice.

A few dozen volunteers have installed free smoke alarms through the Red Cross "Sound the Alarm, Save a Life Campaign." Through this national program, the American Red Cross has installed over 1.2 million smoke alarms, made over 500,000 homes safer, and documented over 400 lives saved from fire.
The American Red Cross consists of approximately 95% volunteers and 5% staff.  It is a non-profit organization that receives no governmental funding and relies solely on monetary donations.
John Caviness from Highland logs in hundreds of hours on an annual basis to maintain the fleet and logistical needs for the San Bernardino Chapter.  John received the "Unsung Hero Award," bestowed to volunteers who have demonstrated commitment, diligence, and excellence in providing behind-the-scenes support for the Red Cross.
Gerald Winkle from Redlands has also logged in hundreds of hours volunteering as a Disaster Action Team Captain, Community Presenter, Disaster Preparedness Presenter, and is also involved in many other activities.  Gerald received the "One Red Cross Award," presented to extraordinary volunteers who serve in at least two lines of service.
Key volunteers in the San Bernardino County area are Georgia Duncan from the High Desert, Patricia Smith from Rialto, and Lucinda Taylor from Upland.  These three ladies are at the heart of the volunteer team dispatching, managing, and sorting out various local disaster activities for the county.
If you would like more information on how to become an American Red Cross volunteer, visit www.redcross.orgor call the local San Bernardino Chapter at (909) 380-7248 and ask for Christine Villafuerte.