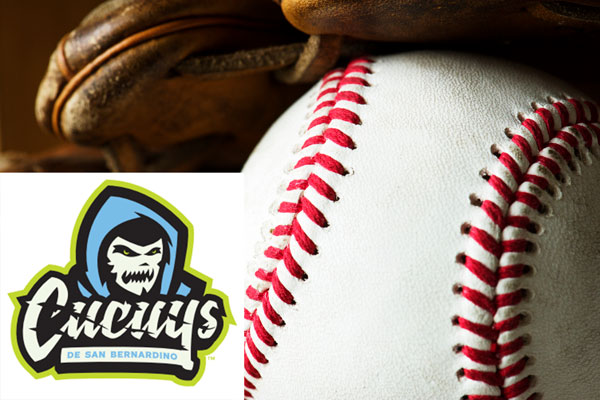 The Inland Empire 66ers announced their team will be rebranded as 'Los Cucuys De San Bernardino' for eight of their games in the 2018 season. The team was selected by Minor League Baseball as one of the 33 teams to be part of the exclusive Copa de la Diversion campaign.
"With our community rich in Hispanic culture, being included in this program is the perfect fit," said Joe Hudson, General Manager for the 66ers. "As a front office, we selected the team name because the Cucuy is relevant in all Hispanic cultures."

"El Cucuy is the Spanish equivalent of The Boogieman. It is something that resonates with all of us in the Hispanic community," said Azalea Sanchez, Outreach Coordinator for the 66ers. "The Sixers are giving us a place to come together, and partake in something we can relate back to our roots."
The team will flaunt themed jerseys and caps on-field, in addition to Cucuys merchandise being available in the team store and website. Furthermore, San Manuel Stadium's atmosphere will be transformed for the eight nights.
Local dance and singing groups will perform for fans pregame. Public address announcements and on-field promotions in Spanish will be featured in game. Music hits will be played to set the scene, and food favorites will be available for purchase including tacos, elote, and agua fresca.
Que Buena 96.1 FM, local Hispanic/Latin radio station, will be the official media sponsor for Cucuy games and events. Radio personality Don Cheto will broadcast live from San Manuel Stadium on a date to be determined.
Outside of the ballpark, 66ers players born in Hispanic/Latin countries will visit local little league teams to share their stories of pursuing a career in sports through hard work and dedication. "We will be strengthening our bond with the Latin American community through the inspiring stories, and face to face interaction," said Sanchez.
The 66ers will become the Los Cucuys De San Bernardino on eight Thursdays; May 3, June 7, June 14, June 28, July 5, July 26, August 2, and August 30.
Make sure to like the Inland Empire 66ers on Facebook and follow @66ersbaseball on Twitter and Instagram for continual updates. The Inland Empire 66ers of San Bernardino baseball team are the Class-A Advanced affiliate of the Los Angeles Angels serving the Inland Empire community with the best family friendly entertainment. The 2018 season begins on Thursday, April 5 against the San Jose Giants at San Manuel Stadium. For more information about season ticket memberships, group outings or how to become a community partner, please contact the 66ers at www.66ers.com or call 909-888-9922.