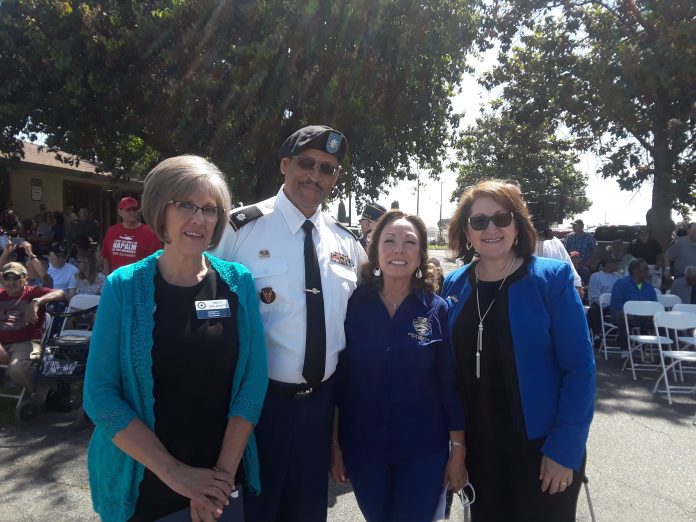 58,318. That is the number of veterans who paid the ultimate sacrifice during the Vietnam War, all of whose names are eternally etched on the Vietnam Veterans Memorial in Washington, D.C. and the half-size touring replica that arrived in Bloomington's Ayala Park on Thursday where it remained until Monday, June 11.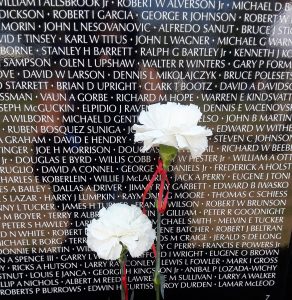 Opening ceremonies for the Moving Wall took place Friday morning at the park that is home to the city's Veterans Monument.

"Ultimately we must embrace our history and acknowledge the roles of those who died for us," declared San Bernardino County 5th District Supervisor Josie Gonzales to a crowd of over 100 who braved the heat to pay homage to those inscribed on the Moving Wall. "We give honor and praise, and we will always remember."
Vietnam veteran and Ceremonies Chairman Bob Lavin who has traveled to D.C. to pay respects to his best friend and a dozen other comrades on the Wall is well aware that many in the community can't afford the luxury of taking a trip to D.C. which is what motivates him to bring the Moving Wall experience to Southern California. This is the fifth tour Lavin has helped organize.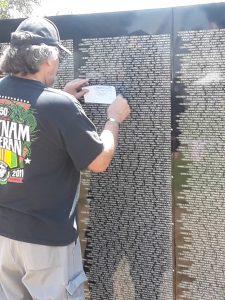 "It's a very moving experience, my emotions still get to me," shared Lavin.
Vietnam Veteran Danny Mendoza described the wall as simply "breathtaking." Mendoza's brother-in-law was killed in the Vietnam War and his twin brother served but was fortunate to return.
"It's hard to see all those names up there, that we lost so many young men," he mused. "I'm here to reflect and take the time to praise, thank them and say 'hi.'"
Assemblymember Eloise Gomez Reyes revealed her brother-in-law and cousin also fought in the war, "This is an opportunity to reflect on the consequences of war and what some men and women are willing to sacrifice so others can be free."
According to Patty Galatioto, Women's Auxiliary 25th District President, the application to sponsor the Moving Wall was submitted two years ago, followed by months of planning and organizing with local officials, made possible by the tireless work of dozens of volunteers.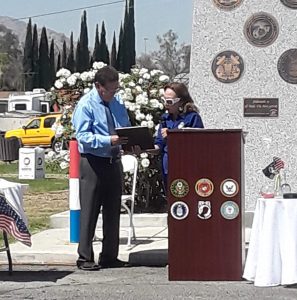 Supervisor Gonzales presented a Certificate of Recognition to the Vietnam Moving Wall Committee, American Legion Post 155 and to Lavin; Assemblymember Reyes recognized Opening Ceremonies with a certificate.
The event wrapped up with a POW/MIA ceremony by Valerie Holmes, rifle salute by Colton VFW Post 6476, "Amazing Grace" by Forrest Cormany on the bagpipes, and "Taps" performed by Bryan Cantrell.
"May the legacy of the fallen heroes be etched in our hearts as they're etched on the Wall," Galatioto concluded.