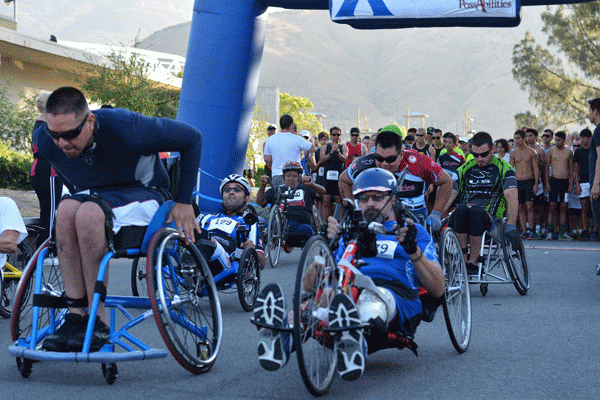 San Bernardino's Sunset Rotary Tinman Triathlon has a new venue–the Little League Western Regional Headquarters.
The 31st Triathlon will take place on Sunday June 25, featuring a sprint triathlon, 5K run and walk, kids triathlon and tricycle race.

The annual event allows competitive athletes to test their skills, but also provides fun and doable events for novices and children, Sunset Rotary members said.
"The Tinman is a reverse sprint triathlon and has become a signature annual competition for our region", said Gigi Hanna, President of the San Bernardino Sunset Rotary, in the press release. "Some of our best athletes are part of our partnership with PossAbilities in Loma Linda. The lift in the pool gives them what they need to compete alongside other triathletes."
The Sunset Rotary has held the triathlon at Cal State San Bernardino every year since its inception in 1987. However, they were required to move the event to the Little League headquarters due to ongoing construction, organization spokeswoman Erin Brinker explained.
"The venue provides plenty of space for all events and the Finish Line Festival featuring music, food, vendors and fun," Brinker said about the Little League headquarters.
Monies raised through the competition will support the community organization's philanthropic and service projects at the local, national, and international level.
Competitors will be required to check in before 7 a.m the day of the triathlon. For more information on how to register for the competition, visit www.RotaryTinman.org.