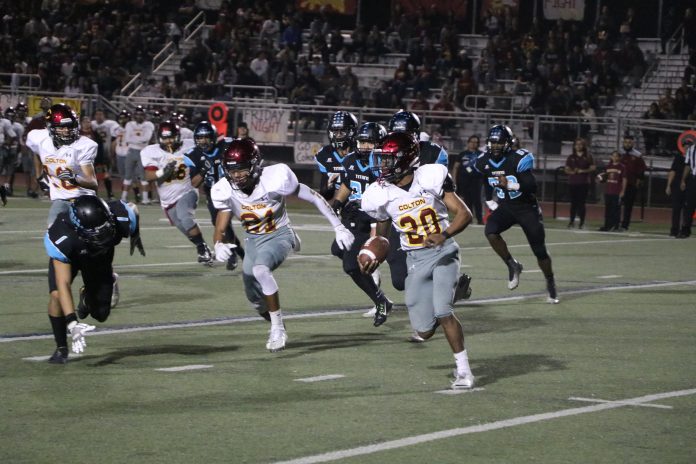 Colton and Grand Terrace High School are on different paths following their annual rivalry football matchup.
The Titans (6-1 overall; 2-0 Sunkist League) scored eight touchdowns in a 58-6 victory over the Yellowjackets (4-3; 1-1 Sunkist League). Both teams are facing tough competition in Fontana Summit and Fontana Kaiser respectively.

And while Grand Terrace is riding a trail of momentum into this Friday's game, Colton is looking to improve on a lackluster performance to upset perennial powerhouse Kaiser.
"I feel that everything that could have gone wrong for us did," said Colton Head Coach Shawn Collins about the game on October 13. "We didn't put our best foot forward last Friday."
The Yellow Jackets offense fumbled the ball five times–with three of them leading to touchdowns for the Titans. Running back Lawrence Campbell rushed into the end zone late in the fourth quarter for Colton's only points of the game.
Collins said his boys are focused on bouncing back and learning from their mistakes.
"It just wasn't our night, and I think the guys knew it," he said. "I think we got caught up in the rivalry and didn't focus like we should of. We have to get back to playing our game."
Meanwhile, Grand Terrace's sophomore quarterback Mehki Lewis completed 10 of 18 passes for 131 yards and two touchdowns and rushed for 23 yards on the night. Senior running backs Jonta Mcmullen and David Anderson combined for 29 carries, 168 yards, and six touchdowns.
Titans Head Coach Ryan Smalls said he wasn't expecting to run up the score against his bitter rivals.
 "I think it was just a rivalry game and we were on the high note," Smalls said. "We watched film, and [Colton's] been playing well. Our kids just really wanted it. Records go out the door in rivalry games."
 Smalls said moving forward his team will focus on working hard during practice in order to gain victories against good programs like Kaiser and Summit.
 "Friday nights are a show of what we have gone through all week," he said. "We have to prepare like our records are both 0-0."
Grand Terrace hosts Summit tomorrow night, while Colton hosts Kaiser. Both games kickoff at 7 p.m.
---
Join our newsletter for weekly wrap-ups of our community coverage, exclusive advertising opportunities and local business specials!