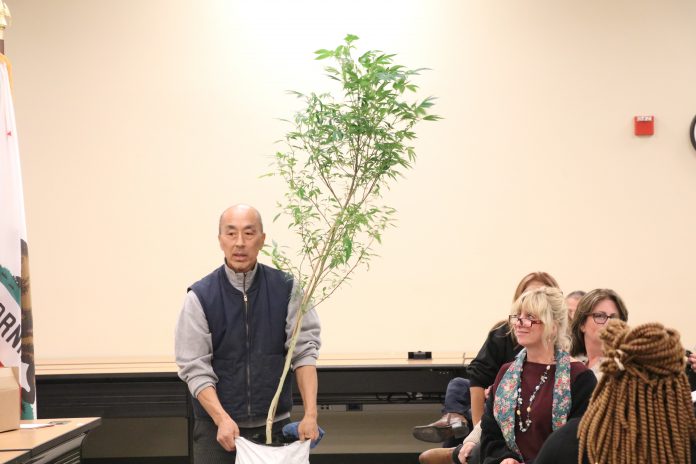 Residents continued to convey their frustrations with San Bernardino's handling of marijuana activity during a town hall held at the San Bernardino Community College District headquarters on Tuesday Jan. 16.
Despite residents voting in 2016 to regulate and tax cannabis city and state wide, no definitive law exists under San Bernardino's municipal code that provides clarity on how to handle marijuana businesses and commercial cultivation.

The city placed a 45 day moratorium last December to further explore their options and anticipate a court decision on Measure O, which has been tentatively ruled invalid by the San Bernardino County Superior Court due to spot zoning and monopolizing.
Councilman Benito Barrios admitted to about 60 residents, marijuana cultivators and business owners in attendance that city leaders have been "fumbling" with regulation. He said the City Council will focus on doing things effectively and properly.
"Let's take the time necessary to get it right," Barrios said.
Barrios invited self-proclaimed cannabis consultant Paul Galindo to speak on a "concept" that he claims will see cannabis businesses and growers work effectively together with city leaders. By buying large properties, Galindo said the city could control where and how businesses and cultivators operate.
"If what I'm talking about seems good to you, let's build on that plan," said Galindo. "
Many people in attendance expressed disapproval over Galindo's plan, which they say is done with little understanding of how the marijuana industry works.
"They are not the real players," said Sung Kim, who operates a warehouse in the city. "They may be good people and mean well, but they don't understand this at all. I knew [Barrios] would take in this bad idea."
Others argued that they should continue to provide suggestions to a recently proposed measure that intends to open a large market for commercial cannabis activities.
Resident Carolina Verduzco applauded Barrios for putting together a meeting that may have not happened without his leadership.
"These people don't know each other," Verduzco expressed. "They wouldn't have been able to get this done themselves. I don't think many of them were discussing this among each other before."