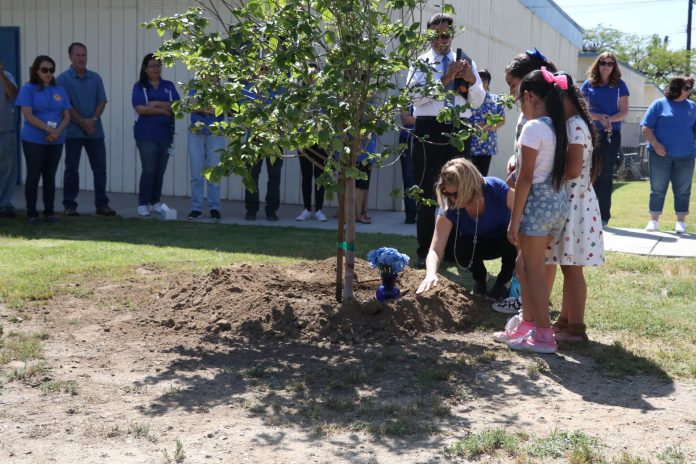 Faculty and staff at Ulysses S. Grant Elementary School planted a tree to honor former student Dominick Gallegos during a small memorial ceremony at the campus Wednesday.
"It's deeply rooted in love," remarked Principal Kathy Jackson of the tree. "Dominick was a part of our school and a part of our community."

The 11-year-old avid reader and athlete collapsed and died on the soccer field of the school on April 12, 2016 due to an enlarged heart and cardiac failure. Dominick's passing moved neighbors to raise money to help the family pay for funeral expenses.
A year removed from his tragic death, the family continues to receive moral support from the community.
"They've taken good care of us, even though we didn't ask them to," said Dominick's father, Joel Gallegos of the community's backing. "Everyone has been like family to us."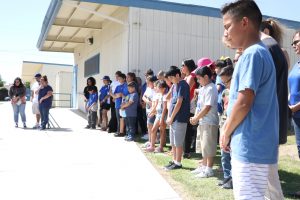 Charmaine revealed she's filled a wooden chest at home with her son's trophies, sports jerseys, and news articles to keep his memory alive. She admits there is a part of her that hopes he would magically walk through their front door.
"I feel him so near sometimes," exclaimed a teary-eyed Charmaine. "He continues to keep us going."
The support demonstrated by school officials and neighbors has contributed to the healing, Charmaine said. "We'll heal with time. We're doing OK."
Dana Vera, a parent volunteer at the Ken Hubbs Memorial Little League, was touched by the school's resounding tribute to Dominick.
"It's important because he was a part of our community," Vera said. "His life is a memory we must help to maintain."
As she paused to place a note on a student-created memorial board, Dominick's grandmother Yolanda Chavez reflected on the profoundly-felt absence of her grandson.
"As his grandmother, it's so nice to do this, to keep his memory alive, she remarked of the memorial. "All of us think about him; we miss him."