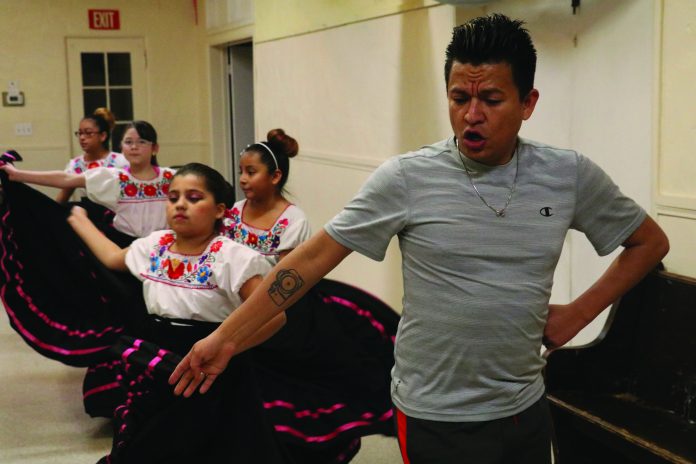 Gary Ferrer isn't your ordinary instructor.
Despite losing his ability to see, Ferrer teaches 10 free folklorico and Zumba classes per week at St. John's Episcopal Church, which is located at 1407 N. Arrowhead Avenue in San Bernardino.

Teaching traditional Mexican dance and fitness to the surrounding Latino community provides Ferrer with a much needed "boost" to overcome his health condition.
"It's important to provide these classes," Ferrer said. "It keeps the young girls out of the dangers of drugs and gangs. This is something beautiful for both myself and the community."
The 28-year-old San Bernardino resident lost his eyesight last year after contracting meningitis. Ferrer said his optic nerve became inflated and needed to be hospitalized as a result. He said it's been a difficult experience to overcome.
"I can't see much, but I try to do the best I can with the little vision I have left," he said. "My life has changed dramatically, but I've always been strong. Sometimes I get down, but these classes and these people have been my therapy. Many of them probably don't even know that I can't see."
Ferrer's partner Ivan Resendez said they've learned to adjust to life.
"It's just been so hard for him," Resendez said, holding back tears. "But we've stuck together through this. I loved him before, but now I love him more than ever."
St. John's Episcopal Church Reverend Linda Pederson believes Ferrer has been entrusted by his community to enlighten them with culture and the performing arts.
"Sometimes you don't recognize a blessing until it's started," said Pederson. "It's absolutely fantastic what Gary is doing here. These young girls are doing something fun, while also learning about their culture."
Resident Nele Gonzalez is grateful for Gary and the Church for providing the free classes for her and her young 4-year-old daughter Emily.
"I admire Gary," said Gonzalez. "He has so much strength and dedication to our community. We know that this a safe space for us to come and learn."
For more information on how to register for folklorico or Zumba dances, contact Ivan Resendez at (909) 556-6664.